A specialty tube and pipe manufacturer recently called Durable Technologies when they need a quick and reliable way to mark specialty tubing and piping.
The customer is a contract manufacturer and were looking for a portable ink jet printer for continuous marking on the outside diameter of metal and plastic pipe and tubing in a variety of diam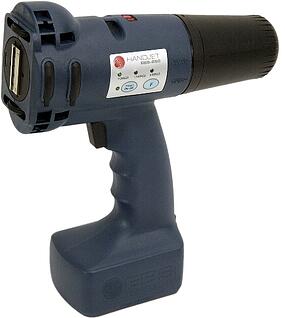 eters from 2" up to 10".
They sent Durable Technologies samples of pipe materials and we marked them with a black acetone ink using the Handjet portable ink jet printer. The customer was impressed enough by the quality of the marks and the speed of application that they purchased a unit.
Since the original order was placed, they came back and asked us for a way to keep their hand steady when they're making the mark.
"Durable really understood our application and quickly offered us a unique and effective solution for marking pipe and tubing. We really appreciated their depth of marking knowledge and understanding of materials and how to get the best direct mark." said the Production Manager.
We supplied them a 2-wheel adjustable stabilizer to help them keep the characters printing in a straight line. These "training wheels" are versatile and allow them to print evenly on pipe and other parts of different shapes and sizes.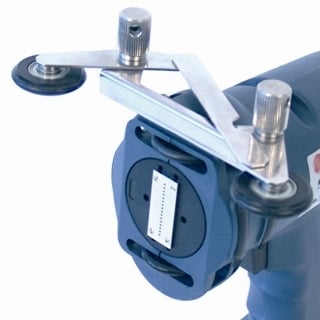 Durable Technologies is a full service manufacturer and supplier of direct part marking solutions for just about any material and any industry.
Contact us to talk with one our marking experts to see the Durable Difference and how we can help you make your mark.
This post was published on July 5, 2011 and updated on March 30, 2015.