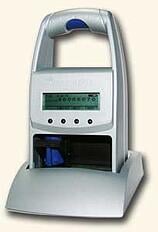 Recently Durable Technologies received a website inquiry from a cosmetics company on the East coast that produces and sells a line of natural skin care products. They were looking for a new way to mark lot number batch codes and expiration dates on the bottles. They had been using a handheld label applicator and the labels were not considered permanent by the regulatory authorities in the Middle East, one of the international destinations for their products.
The main requirement was that the marks must be tamperproof which meant that their codes needed to be applied directly to the plastic and glass bottles as well as the paper/cardboard boxes that the product was packaged in. Because serialization was required for batch codes and expiration dates, a computer-controlled solution was required. Cost was also a concern for the company so higher-end marking machines like lasers were out of the question.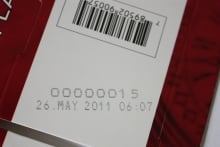 The client was able to mark each of their bottles and boxes in under one second using the JetStamp Portable Inkjet Printer from Durable Technologies. "These marks are not only tamperproof but look better from an aesthetic perspective than the previous labels. The cost per code is also lower than the hand applied paper labels," according to the client. "Durable was a huge help in this process. They recommended the correct solution and provided samples of the marks on each of the materials we sent them. We intend to purchase more of the JetStamp printers in the future".
The JetStamp family of printers is an affordable, versatile, low-maintenance and easy to use direct part marking solution. JetStamp offers mobility and accuracy and can print alpha-numeric text, sequential numbering, and automatic date and time on a variety of materials depending on the printer model you choose, including porous (EM series) and non-porous (MP series) substrates as well as uneven surfaces. Programming can be done through your PC or directly through the printer itself.
Available in three convenient configurations depending on your application requirements: battery-operated, plug-in with power supply and direct online printing via a PC interface.
Technical Data:
Black, Red and Blue ink cartridges available (*Blue only available with EM series for porous substrates)
Up to 5,000 impressions per cartridge (cartridges are 3mL)
Prints 1 or 2 lines of text
Maximum of 20 characters per line, maximum print width 1.65"
1/8" tall characters, adjustable widths
Alpha-numeric text, sequential numbering, automatic date and time
Weight: 1 pound (approximately)
Dimensions: 6.6" H x 3.7" W x 3" D
This post was published on August 6, 2013 and updated on May 23, 2018.