Ink jet coding and marking is a versatile marking solution providing both inline and mobile marking options suited for a variety of surfaces and materials.
Inline Ink Jet Printers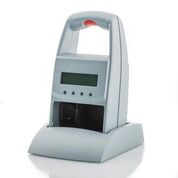 Inline ink jet printers are an excellent marking solution for medium to high volume applications with date coding and traceability needs. We offer continuous ink jet options for printing small characters, drop on demand options for large character printing needs, and high resolution options for printing hi-res text, barcodes, graphics, and symbols.
Handheld and Portable Ink Jet Printers
Hand held ink jet printers offer flexible and mobile marking solutions for printing on a variety of surfaces and materials. The JetStamp family and the HandJet are two of our most popular portable ink jet coders.
If you're looking for a portable ink jet printer that's affordable, versatile, low maintenance and easy to use, we recommend the JetStamp family of printers. These electronic printers offer great mobility and can print alphanumeric text, sequential numbering, as well as automatic date and time on a variety of materials depending on the printer model you choose, including porous (EM series) and non-porous (MP series) substrates as well as uneven surfaces. This printer comes with its own software and all of the programming is done right through your PC.
The JetStamp Graphic 970 handheld ink jet printer is a versatile, rugged, easy to use, virtually maintenance-free portable printing solution. The JetStamp Graphic 970 is perfect for printing barcodes, graphics, sequential numbers, automatic date and time, and alphanumeric text on the go. This portable ink jet printer boasts a 1/2" x 2-1/2" print area that can print on a variety of substrates including uneven surfaces. It can also be used for printing on non-absorbent materials like glass, plastic, metal, and glossy labels using our MP ink.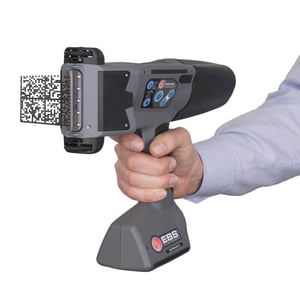 The HandJet model offers an affordable upgrade to traditional hand coders (such as stencil machines, rubber hand stamps, and roller coders.) This portable ink jet printer is perfect for a wide range of applications where product identification and portability are a must. Messages are created through your PC and transferred to the Handjet via a Bluetooth module (cable-free). The HandJet 260 model is capable of printing up to 2.2" tall characters,including date codes, sequential numbers, logos, and 2D bar codes.
Learn More
Contact Durable Technologies to learn more about inkjet coders and let us help you find the right marking solution for your application.
This post was published on February 14, 2019 and updated on November 13, 2019.