Ingredients Corporation of America in Memphis, TN is a contract manufacturer of custom proprietary formulations of spices, seasonings, sauces, marinades and breadings. They custom label for retail distribution and develop, formulate, blend and pack products for individuals and businesses alike.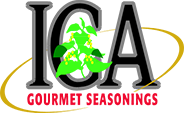 Doug Pratt, General Manager of Ingredients Corporation of America, says "we needed a date coding solution for our short run production situations. When we only run a case or two of bottles we needed to add date coding to them to comply with food safety laws. The JetStamp 790 we purchased from Durable Technologies fit our needs perfectly. Durable helped us identify the best product for our solution and the JetStamp really helps us be more efficient and flexible when adding permanent date codes to our boxes."
JetStamp portable ink jet printers offer manufacturers date coding flexibility by being able to print alpha-numeric text, sequences of numbers as well as automated date and time codes. These machines can mark on a wide variety of materials depending on the printer model you choose, including porous (EM series) and non-porous (MP series) substrates as well as uneven surfaces. Programming can be done through your PC or directly through the printer itself. Available in two convenient configurations depending on your application requirements: battery-operated or plug-in with power supply.

Technical Data:
Black, Red and Blue ink cartridges available (*Blue only available with EM series for porous substrates)
Up to 5,000 impressions per cartridge (cartridges are 3mL)
Prints 1 or 2 lines of text
Maximum of 20 characters per line, maximum print width 1.65"
1/8" tall characters, adjustable widths
Alpha-numeric text, sequential numbering, automatic date and time
Weight: 1 pound (approximately)
Dimensions: 6.6" H x 3.7" W x 3" D
Contact us for all of your direct part marking needs.
This post was published on September 9, 2015 and updated on October 20, 2020.