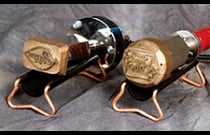 Branding is possibly the most practical and economical way to permanently mark almost any material other than metal or glass.
What are branding irons used for?
Fine furniture, timber and other woodcrafts are frequently branded to advertise a trademark, logo or manufacturer's name or to "sign" or individualize a craftsman's work.
Branding is also used to identify tools or equipment for personal or security purposes.