Metal letter hand stamps are easy to use and allow users to mark static letter sequences onto a variety of materials with little set up.
Metal Letter Stamps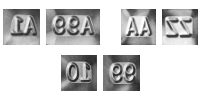 Metal letter inspection stamps tend to come in two- and three-character configurations and are a popular marking solution for welder ID and quality control.
Ideal for low volume applications, metal letter stamps offer users a couple of options like sharp face, low stress full (round) character, and low stress dot character. These options allow users to select the style of stamp that best fits their application.
For some applications, visibility is an important factor, so metal letter stamps also come in a variety of character sizes, most commonly 3/32", 1/8", 5/32", 3/16", 1/4", and 3/8."
The Advantages of Steel

Steel is an ideal construction material for stamps because it is highly durable. Stamps, by nature, must withstand repeated striking while creating a clear impression on the material being marked. Steel holds up to the repeated impact and pressure of stamping very well and provides users with a long service life.
The quality of the mark itself is another advantage of steel stamps. When properly used, metal stamps create very clear, crisp, deep marks. Since the marks are clear and the surface is permanently marked, metal stamps are often used to mark parts in industrial settings.
Steel is also a cost-effective material, allowing users to commission custom stamps in low quantities more economically.
Learn More
Learn more about our hand stamps in the free Guide to Traditional Industrial Marking! Or contact us to request a quote.
You Might Also Be Interested In
This post was published on June 11, 2019 and updated on June 11, 2019.