Metal letter hand stamps are easy to use and allow users to mark static letter sequences onto a variety of materials with little setup.
Metal Letter Stamps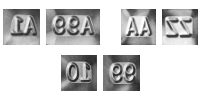 Metal letter inspection stamps tend to come in two- and three-character configurations and are a popular marking solution for welder ID and quality control.
Ideal for low volume applications, metal letter stamps offer users a couple of options like sharp face, low stress full (round) character, low-stress dot character, reverse, and flat face.
These options allow users to select the style of stamp that best fits their application.
Sharp face - Sharp face characters leave a sunk impression or indent when stamped and are the most popular character style for marking metals.
Low stress - Low stress marks are created using either round characters or dot characters. This style reduces the amount of stress placed on the part during the stamping process which serves to maintain the integrity of the part. There are a number of industries (aerospace, oil and gas, piping) that specify low stress marking for all of their components.
Reverse - Typically used for stamping molds and forging dies, reverse characters read "right" on the blank, while standard characters appear backward.
Flat face - Flat face characters creates a bold impression and is typically used in forging, branding applications, and hot stamping with foil.
For the majority of applications, visibility is an important factor, so metal letter stamps also come in a variety of character sizes, most commonly 3/32", 1/8", 5/32", 3/16", 1/4", and 3/8."
The Advantages of Steel

Steel is the ideal construction material for metal letter stamps because it is highly durable. Stamps, by nature, must withstand repeated striking while creating a clear impression on the material being marked.
Steel holds up to the repeated impact and the pressure of stamping very well and provides users with long service life.
The quality of the mark itself is another advantage of steel stamps. When properly used, metal stamps create very clear, crisp, deep marks. Since the marks are clear and the surface is permanently marked, metal stamps are often used to mark parts in industrial settings.
Steel is also a cost-effective material, allowing users to commission custom stamps in low quantities more economically.
Can I get custom metal letter stamps?
Yes! Durable Technologies' steel stamps and marking dies are custom engineered for identifying just about any type of product. Every die and stamp blank we make is machined to your detailed specifications. Our custom metal letter stamps satisfy the requirements for all kinds of marking machines, punch presses, press brakes, and other types of marking equipment.
The size of the shank, number of characters, character style, and logo are all cus
tomizable.
Custom Metal Letter Stamp Success Stories
C&C Metals, located in West Boylston, MA, had a problem. How would they direct part mark the end of a very expensive custom ship drive shaft and get it just right every time? Read their story here.
Oowee Products of Asheville, NC creates custom, hand-crafted, leather sleeves for mugs and other beer accessories. They were looking for a custom hand stamp letter set and that's where Durable Technologies came in. Read the story here.
Sharrow Lifting Products manufactures and sells a full line of lifting slings, rigging equipment, tie-down equipment, and other specialty lifting devices. When their old hand stamps started to chip and pieces were flying off the stamp when hit they knew they needed to find a better solution fast. Read their story here.
Learn More
Learn more about our hand stamps in the free Guide to Traditional Industrial Marking!
Or contact us to request a quote.
You Might Also Be Interested In
This post was published on November 30, 2021 and updated on November 30, 2021.