Durable Technologies creates custom metal stamps for leather and many other materials. Our stamps can be made with simple or complex text, logos, and designs in sizes ranging from tiny steel hand stamps to mark jewelry to large hand stamps for marking steel slabs.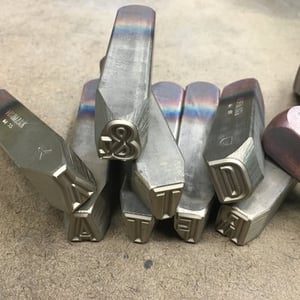 The engraved copy can be made sharp face, low stress full character, low stress dot character, or customized to your specific marking requirements.
Durable Technologies has a steel hand stamp for just about any direct part marking requirement. We custom design and manufacture heavy-duty steel hand stamps according to your exact specifications. Made from a special grade of tool steel, our designs provide extra-long service life for these custom designed hand stamps. Our hand stamps resist spalling and mushrooming which makes sure your operators stay safe.
Don't take it from us, here's what one satisfied customer had to say about his experience with Durable stamps:
Gabriel Hargett, owner of Oowee Products, says, "We needed someone to create a custom hand stamp letter set from our specifications. To match our branding on our hand-crafted leather beer sleeves we needed someone that understood low volume, custom manufacturing. Durable Technologies took our font designs and turned them into a beautiful hand stamp letter set that we used to custom stamp people's names onto our products."
Read the rest of the Oowee Products story here.
Other articles about custom hand stamps include:
Also available to help with custom metal stamping:
This post was published on February 19, 2020 and updated on February 19, 2020.