From large stamps meant to leave maker's marks in metal to delicate hand stamps for jewelry creation, custom metal stamps come in all shapes and sizes.

Customization
Custom metal stamps are a popular marking solution because they give the user a great degree of flexibility. With characters, numbers, and custom logos available in sharp face, low stress full character, or low stress dot character, metal stamps are highly customizable.
Download the Guide to Traditional Industrial Marking to learn more about hand stamps.
Metal stamps are also popular because they can be used in conjunction with a holder to promote operator safety. Hand stamp holders provide users with more stability when stamping and also help protect users from injury when striking the stamp.
Holders are available in a number of styles including our Safety First Stamp Grip. This holder is made from a durable, urethane material and features a 4" diameter hand shield that protects the operator's hand during the stamping process.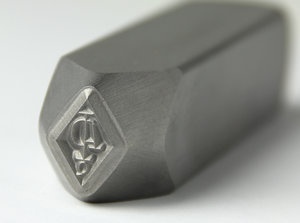 Applications
Custom metal stamps are used in a wide range of applications that spans traditional part marking to artisan craftsmanship.
One of the most common, traditional uses for metal stamps is part marking with inspection stamps. Used to track quality control measures, inspection stamps come in a number of standard designs (like the APIQ logo stamps to mark parts made by companies certified by the American Petroleum Institute) or custom design options to aid in company specific tracking goals.
Custom metal stamps aren't just functional, however, they are also used for creating maker's marks or aesthetically pleasing designs in handmade goods like leather, wood, or jewelry.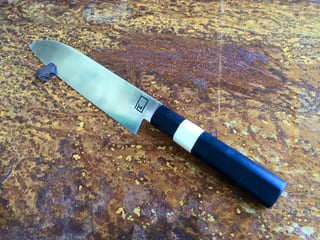 What our customers are saying
We have a lot of experience creating custom metal stamps and we've shared many of our customers' success stories with our blog readers before. Like Anna Nava-Liess, the owner of AN-L Handcrafted located in VA, who uses our stamps to create jewelry. Anna had this to say about working with Durable, "I searched online and found a number of hand stamp manufacturers. Durable Technologies responded so quickly and provided me with, by far, the best service that there was virtually no choice who to go with. On top of that, they have the best prices for the hand stamps."
Or this story about a company that uses our custom metal stamps to mark cutlery.
If you've used our custom metal stamps before, we'd love to hear from you too! We're always on the lookout for more customer success stories to highlight on the Durable Marking Blog. All you have to do is contact us with your Durable experience here.
Learn more about custom metal stamps in the new, free, Guide to Traditional Industrial Marking! Or contact us to request a quote.
This post was published on March 24, 2016 and updated on March 24, 2016.