Typically used to identify a specific welder and company, welder identification hand stamps need to leave long-lasting, clear marks.
What are Welders Identification Hand Stamps?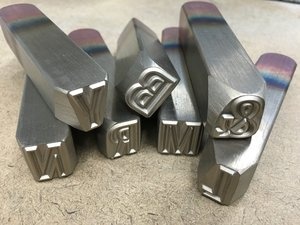 Welder identification hand stamps are hand stamps that are used to identify the work of a specific welder. The marks are often made in the field and need to stand up to harsh, industrial environments. It is essential that the marks are both easy to make and easy to read because they are typically referenced during inspections.
Hand stamps are an ideal marking solution for this type of mark because they are economical, easy to use, and are easily customizable.
Steel Hand Stamps
Steel hand stamps are manufactured from hardened, high-grade tool steel that resists spalling and mushrooming. This is important because it means that the stamps will hold up over time.
Easy to use, steel hand stamps come in a wide range of sizes and character styles. They can also be easily customized for a specific application with things like trademarks, makers marks, or symbols.
Welders Identification Applications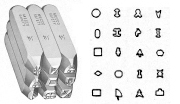 Welder identification hand stamps are used by welders in all types of industries. However, we recently had an international welding inspection firm reach out to us looking for hand stamps to use as welding inspection tools.
They needed the hand stamps to be low stress round, full character and required a large number of them. They required the stamps to mark welded parts with an inspection number and welder ID.
They also needed the stamps to meet specific industry standards, hold up under harsh conditions, and be supplied by a company who could accommodate their needs.
"Durable was the first company to respond to my web inquiry and continued to maintain a high level of productive communication throughout the buying process and made the vendor selection decision an easy one," states the person responsible for this purchase.
Read the full story here.
Learn More
Learn more about Durable's selction of steel stamps and holders in the new, free Guide to Traditional Industrial Marking! Or contact us to request a quote.
You Might Also Be Interested In:
This post was published on May 2, 2019 and updated on May 2, 2019.