Recently, a large international firm specializing in welding inspections found Durable Technologies through an internet search and reached out to us about using hand stamps as welding inspection tools.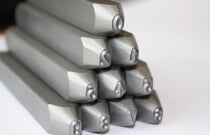 This company required a large number of low stress round, full character, steel hand stamps for marking welded parts with an inspection number and welder identification. However, because of the nature of the company and the industries where the stamps would be used, they needed to meet certain standards, hold up under harsh conditions, and be supplied by a company who could accommodate their needs.
The company specified that the stamps would be used for the marking of metallic parts for identification prior to testing, or for marking on equipment nameplates. Most of the welding inspection is performed in the oil and gas industry, in the field and most often, in harsh environments.
The stamp would be applied by striking it with a hammer, and the stamps needed to not chip or spall after repeated use. The steel hand stamps also needed to be specially engineered so that low stress levels are introduced into the component being marked.
Once the stamps were received, they would be shipped around the world to over 20 countries including UK, Thailand, Holland, Egypt, Australia, Algeria, and China.
"Durable was the first company to respond to my web inquiry and continued to maintain a high level of productive communication throughout the buying process and made the vendor selection decision an easy one," states the person responsible for this purchase.

Durable Technologies' steel stamps and marking dies are custom engineered for identifying a variety of manufactured metallic products. Each die blank is carefully machined to the user's specifications. These custom dies satisfy any user requirement for marking machines, punch presses, press brakes and other machines.
Durable's custom stamps can be made for marking on flat, curved, concave, or convex surfaces. They can be used for stamping part numbers, patent numbers, trade names, trademarks, special lettering, or other data.
Steel hand stamps, in particular, offer users a number of advantages. Steel is a durable material so the stamps have a long service life. Steel also allows the marks that are made with the stamp to be clear and easily visible. Steel stamps are also an affordable solution.
Learn More
Learn more about steel stamps and holders in the new, free Guide to Traditional Industrial Marking! Or contact us to request a quote.
You Might Also Be Interested In
This post was published on January 3, 2018 and updated on April 7, 2021.