Jacob King is the owner of Tall Pine Forge in Holly Springs, North Carolina and specializes in forging 18th century colonial ironwork; a blacksmith from the old school. He knows that attention to detail makes all the difference when recreating a tool or piece like they did in the 18th century. That attention to detail is why he entrusted Durable Technologies with making his unique, custom touch mark for all his products.
"As I continued to receive requests for pieces ranging from traditional colonial items, tools, and other forged heirlooms, I knew the stamp I previously crafted needed a serious upgrade if I wanted to better capture my unique insignia with the addition of my name, which was something not feasible with my current setup. Although hammering my old touch mark into the hot metal was perfectly suitable in some instances, I found this approach to be limited as my self-made stamp was too large and couldn't provide the level of detail or quality that I was hoping to pursue. I searched online and found Durable, among many other providers, but it was their customer service, team of people, and expertise were the qualifying factors that instantly set Durable apart from the rest; my interactions with their representatives convinced me that they truly cared. After replying almost instantly to my initial inquiry, Durable explained their manufacturing process and use of premium, high quality materials in creating these hand stamps which ultimately made my decision concerning a supplier an easy one," states Mr. King
"Durable's team took the time to explain how unique character faces, font sizes, and stamp bevels displace material when pressed into the metal, as well as, educating me on industry nomenclature associated with steel hand stamps in order to best suite my needs and my logo. They collaborated on my ideas, provided proofs in actual sizes, and took every opportunity to ensure the stamp I was seeking perfectly captured the confidence and pride I take in all my work, not to mention the fact it was crafted from shock resistant tool steel! Once I confirmed my proof, the stamp creation process was underway and throughout this time, Durable kept me informed on a weekly basis. Before I knew it, my stamp was on my doorstep with an email from my representative letting me know it had arrived in the mail and he was just as eager to see how it performed on my products as I was.
The Durable stamp is absolutely top notch. After a few practice runs, I stamped O1 tool steel, 1075 high carbon steel, and 1018 mild steel and the outcome was fantastic. I was able to achieve really nice, crisp impressions into my work and so far I'm thrilled with its performance – this maker's mark really adds the final finish I've been aspiring to capture and it's much easier to accomplish without the risk of double striking an error on a finished piece; it results in an equally distributed amount of pressure across the plane of my work, as you can see in these photos (18th Century Hearth Equipment)," states Mr. King.
"Thank you so much, Durable, for your stellar customer service - you'll be my go to for everything in this regard moving forward," says Mr. King.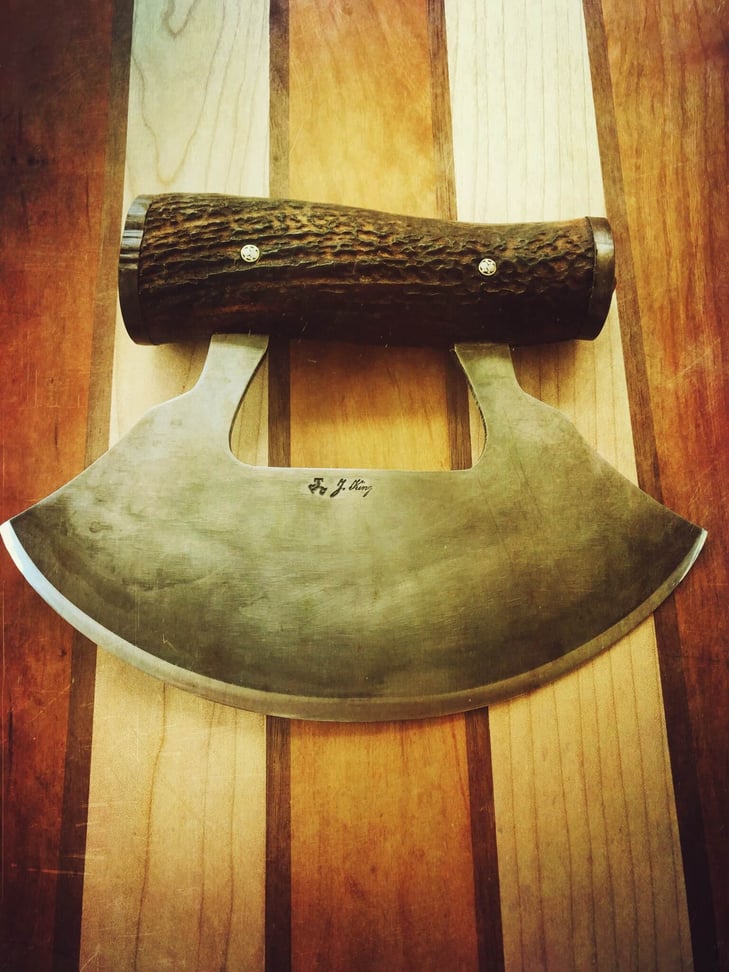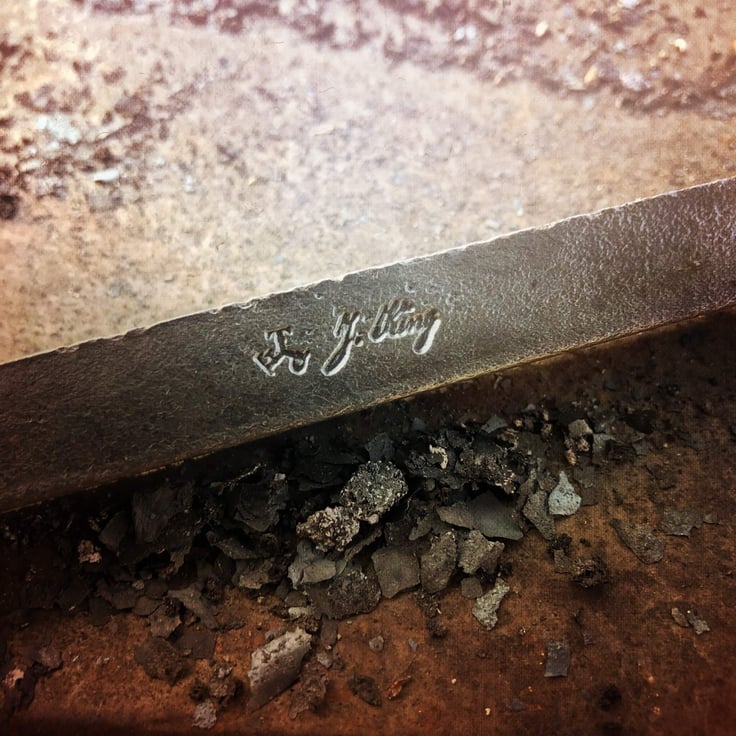 Hand Stamps
Durable Technologies creates custom steel hand stamps are ideal for marking knife blades and blacksmith creations with text, logos, and custom designs. We manufacture heavy duty steel hand stamps that provide extra-long service life. Made from a special grade of tool steel, they resist spalling and mushrooming and are made to your custom specifications.
Press Style Dies
We also offer custom steel stamps that are available with a shank for use in a press. This allows for faster cycle time and more consistent mark results.
Text, Logos, and Designs
We can manufacture custom text, logos, and designs in a variety of sizes to accommodate your stamping preference. We typically recommend using sharp face Gothic style characters to ensure a clear and crisp stamped impression.
You can check out some of our most popular knife marking posts below to see how real Durable customers have used both our custom shank stamps as well as hand stamps.
You can see some of the variety of touchmarks and materials in the applications articles below.
Contact us for more information about custom steel stamping dies, hand stamps, and presses.
This post was published on March 15, 2018 and updated on October 15, 2020.