Hot stamping is a versatile marking method that allows for easy customization on a variety of substrates. Requests for personalization and monogramming type and dies have increased dramatically over the last few years and we don't expect it to slow down any time soon.
Hot Stamping Explained
Hot stamping makes use of a hot stamping press, metal type or logo dies, and hot stamping foil (if you choose to add color). The press heats up the printers' type or logo die, the press engages the heated die or type with the foil, and the ink transfers from the foil to the substrate / part being marked. The press then disengages at the end of the marking cycle leaving behind a crisp, permanent impression on the part.
Printers' Type and Logo Dies
One of the biggest advantages of hot stamping is that you can create custom, alphanumeric type or hot stamping dies with almost any font, symbol or image, allowing for easy customization of everything from high-end hand bags to luggage tags to padfolios and book bindings.
We offer brass type, steel type, and magnesium dies to meet all of your hot stamping needs depending on your printing requirements and budget.
Hot Stamping Applications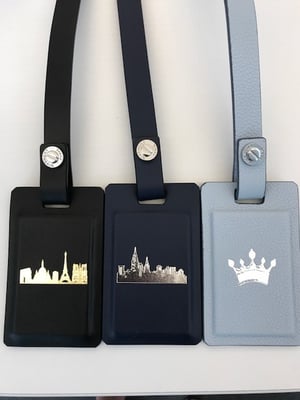 Over the years we have helped many customers make their mark with our printers type. You can see a selection of these hot stamping testimonials here:
Learn More
No matter what your hot stamping or imprinting application, Durable Technologies manufactures an extensive array of brass and steel hot stamp dies, monogramming type, magnesium dies, Kingsley® wire marking type, heat shrink sleeving type, type holders, branding iron dies, and much more. Contact us to learn more!
This post was published on March 12, 2019 and updated on March 12, 2019.