Typically used to print alphanumeric text, serial numbers, time and date, logos, and barcodes, portable metal marking machines allow users to make permanent marks directly onto the metal substrate while in the field. Most often, this type of marking is done with either a hand held printer or a portable dot peen marking system.
Portable Ink Jet Printers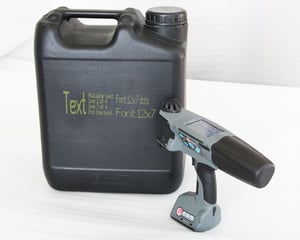 Portable ink jet printers are a popular solution for portable metal marking requirements because they are simple to use. Portable ink jet printers are ideal for product identification in the field and offer users an easy-to-use marking solution that's both versatile and rugged. Also, most portable ink jet printers are capable of printing in color, although that is not always the case.
Portable ink jet printers can mark alphanumeric text, sequential numbering, automatic date and time, logos and bar codes (Handjet 260 and JetStamp Graphic 970 models) onto porous and non-porous substrates.
Portable ink jet printers owe much of their popularity to the fact that they are low maintenance, easy to use, versatile, and affordable.
Portable Dot Peen Marking System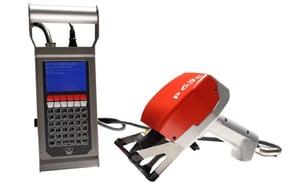 Portable, hand held dot peen marking systems create low stress dot patterns into the substrate that are able to withstand harsh conditions and long use. A portable dot peen marking system is a good solution for hard to mark substrates like coated or painted metal that can be hard to print onto.
These systems are suited for marking heavy materials or parts t too large to be handled easily. Lightweight and ergonomic yet still rugged, these machines can mark a wide range of materials from plastics to metals up to 62 HRC.
These systems are simple to use and durable, featuring a cast aluminum body and handle. Portable dot peen marking systems are also lightweight, mobile, ergonomic, and flexible.
Learn More
Durable Technologies is a full-service manufacturer and supplier of direct part marking solutions for just about any material and industry.
Contact us to talk with one of our marking experts to see the Durable Difference and how we can help you make your mark.
You may be interested in these related posts:
This post was published on October 4, 2018 and updated on October 4, 2018.