No matter what your hot stamping or imprinting application, Durable Technologies designs, manufactures, and supplies an extensive array of hot stamp type and logo dies meant to deliver the highest quality direct part marking solution available.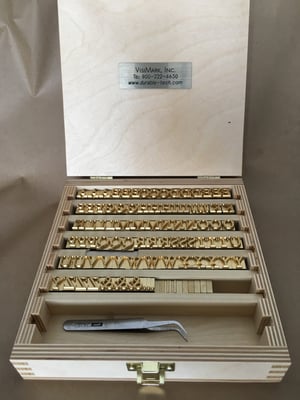 We create hot stamping printers' type, monogramming type, Kingsley® wire marking type, heat shrink sleeving type, type holders, magnesium dies, branding iron dies, and much more.
Our custom designed logo dies can be produced with just about any text or image. Typically made from from brass or steel, logo dies are ideal for stamping applications where your text remains constant (stamping the same copy or image over and over again). Magnesium dies are an economical (material) alternative recommended for shorter production runs.
Standard typefaces are very common for our team to produce. We are capable of producing any type style including custom typefaces and symbols if a high-quality proof or samples are provided (including foreign languages!).
Our type and logo dies are usually made type high (.918" / 23.3mm) or 1" to fit in most standard type holders but can also be machined to any size to fit your current setup.
Please feel free to read the stories below about Durable Technologies customers and how they use our metal type and dies to make their mark.
AKA Bindery Uses Brass Type for Bookbinding
Infinite Series Uses Durable Custom Stamping Dies for Leather
Custom Engraved Brass Hot Stamping Dies
Click here for more information on our Hot Stamping Foils and Ribbons.
Click here for more information on our Hot Foil Stamping Printers.
You can also contact us now to speak with someone in Sales.
This post was published on May 12, 2020 and updated on October 15, 2020.