National Hospitality was founded in 1990 with the intent of providing hotels, motels and others in the Hospitality industry a source for all their supply and equipment needs. In 1996, they expanded their focus to include the Restaurant and Food Service Industry. They now offer more than 7,000 different items in their product line
Durable Technologies makes the custom engraved brass hot stamping dies that they use to hot stamp key tags for hotels (like the ones below).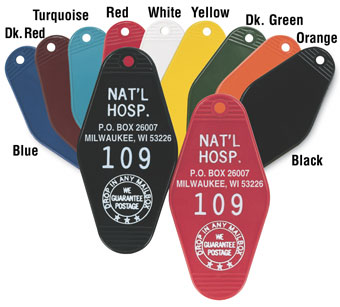 Mike Hans, the owner of National Hosipitality, says "we hot stamp plastic key tags and impregnate a colored foil into the tags to provide the high contrast text and numbers. We use both automated and manual hot stamping equipment to make these permanent direct part marks.
Durable Technologies is responsive, easy to work with, they deliver on time and are very accommodating and helpful. The people at Durable stand behind what they do and we appreciate them very much as one of our supplier partners."
Durable Technologies designs and manufactures a wide variety of brass printers' type and brass dies used in hot stamping machines. Our type and dies are compatible with printers such as Kingsley®, Kwikprint®, AAmstamp®, Kensol Franklin®, Jackson®, Gibson®, Howard® and virtually any other hot stamping machine. Applications include book bindings, leather goods, ribbons, greeting cards, napkins, plastic, paper, labels, and many advertising specialty items
Standard typefaces are very common for Durable Technologies to produce. We can also produce any type style including custom typefaces and symbols if a high-quality proof or samples are provided (including foreign languages!).
Custom logo dies can be produced with any wording or design, in brass or steel, for stamping applications where your text remains constant. Our logo dies are typically made type high (.918" / 23.3mm) to fit in most standard type holders but can also be machined to any size to fit your present type holder.
Contact us for more information about engraved brass dies.
This post was published on June 9, 2015 and updated on July 8, 2015.