Used to mark required information directly onto a variety of packaging materials, our hand held ink jet printers are a versatile marking solution.
Package Date Coding
Our JetStamp family of portable ink jet printers are capable of printing variable information such as lot numbers, expiration dates, case codes, barcodes, logos, and other general packaging information directly onto a variety of porous and non-porous substrates, including paper, cardboard, plastics, glass and more.
Hand Held Printer Options
There are a few model options available depending on your specific marking requirements and budget. First is the JetStamp model which can print up to 2 lines of alphanumeric text onto porous (EM series) and non-porous (MP series) substrates.
If you need to print barcodes and logos in addition to alphanumeric text, look no further than the JetStamp 970. This printer is capable of printing on both porous and non-porous substrates and boasts a 1/2" x 2-1/2" maximum print area.
If you require an even larger print area than is available with the 970 model, check out our newest addition, the JetStamp 1025. The 1025 can print alphanumeric text, barcodes, and logos and has the ability to print up to 1" high x 3-1/2" long copy.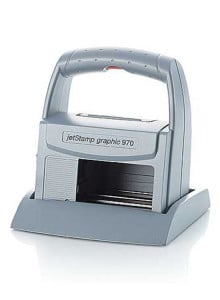 Coding in Action
Check out some of our blog posts relating to the JetStamp portable printers:
Contact Durable Technologies to learn more about our hand held package date coding solutions.
This post was published on November 20, 2019 and updated on November 20, 2019.