PTS Fulfillment, a fulfillment center and warehouse located in Aurora, IL, needed an easy to set up solution for adding lot codes and date codes to packages of vitamins and nutritional supplements. Arthur Prokrop says that "our customers are moving into retail displays of our products and need to be able to track date and lot codes. We needed a permanent marking solution that was easy to setup and program as well as being portable so we reached out to the experts at Durable Technologies and they recommended the JetStamp EM792MP and EM790BKQD ink cartridge and they have worked perfectly for our application."
If you're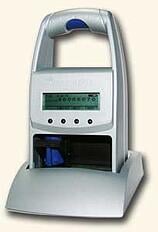 looking for a portable ink jet printer that's reasonably priced, flexible, low-maintenance and easy to use, our customers love the JetStamp family of printers. These electronic printers offer great mobility and can print alpha-numeric text, sequential numbering, as well as automatic date and time on a variety of materials depending on the printer model you choose, including porous (EM series) and non-porous (MP series) substrates as well as uneven surfaces. Programming can be done through your PC or directly through the printer itself.
Available in three convenient configurations depending on your application requirements: battery-operated, plug-in with power supply and direct online printing via a PC interface.

Technical Data:
Black, Red and Blue ink cartridges available (*Blue only available with EM series for porous substrates)
Up to 5,000 impressions per cartridge (cartridges are 3mL)
Prints 1 or 2 lines of text
Maximum of 20 characters per line, maximum print width 1.65"
1/8" tall characters, adjustable widths
Alpha-numeric text, sequential numbering, automatic date and time
Weight: 1 pound (approximately)
Dimensions: 6.6" H x 3.7" W x 3" D
Contact us for all of your package date coding needs.
This post was published on September 23, 2015 and updated on January 23, 2017.