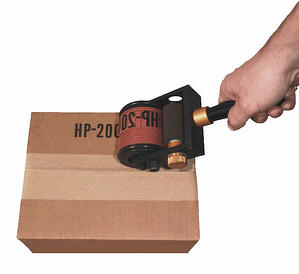 Package date coding is a popular marking solution across a wide range of industries. Why? Because there are an almost unlimited number of variations of size, material, and information requirements needed. Especially today when more of what we buy is shipped directly to us.
Package date coding is used to mark important part identification and traceability information, including:
Lot numbers
Expiration dates
Case codes
2D barcodes
General package date coding
There are a number of marking methods used in package date coding. The application, substrate, budget, and industry dictate which marking method is best suited.
Some of the most common methods include hot stamping coders, ink jet printers, thermal transfer printers, and carton and case coders.
Durable Technologies is the leading metal type supplier in the US. We design and manufacture brass and steel dies and packaging Type used for date coding, part imprinting, package labeling, as well as metal embossing, and debossing.
Our replacement packaging type and steel stamp dies are regularly used in cartoners, sealers, tube fillers, labelers, wrappers, thermoform and imprinters for hot or cold marking of labels, tags, packages, cartons, boxes, plastic, and/or metal surfaces.
Durable Technologies carries a broad-based package marking product line to solve the widest variety of packaging marking applications and has the experience needed to make the very best recommendation for your situation.
We manufacture and supply replacement type metal type and other consumables for nearly every OEM packaging machine including Markem-Imaje®, Norwood®, Jones®, Norden®, Videojet®, Marsh®, Diagraph®, Linx®, Domino®, Hilti®, and many more.
Durable Technologies has the replacement metal coding type and dies, type holders, hot stamping foil, hot melt ink rollers, rubber type, ink jet fluids, and thermal transfer ribbons needed to be your date coding supply specialist.
Here are some articles talking about our package date coding solutions:
Choosing the Best Package Marking Solution
Package Date Coding Type When You Need It
Brass & Steel Type for Package Date Coding and Hot Stamping
Contact Durable Technologies to learn more about our package date coding solutions.
This post was published on November 6, 2020 and updated on May 2, 2022.