One of Durable Technologies' long-time customers is a global leader in manufacturing generic respiratory medications. Their products are available to retail pharmacies, hospitals, home care companies, long-term care facilities, mail-order pharmacies, and various other customers.
Many of their products are produced using B/F/S technology or Blow/Fill/Seal machines that use a variety of metal hot stamping coding type to imprint a date code, serial number, part number, and any other product identification into single serve vials.
Aseptic B/F/S systems offer a unique combination of flexibility in packaging design, low operating cost, and a high degree of sterility assurance.
Brass Printing Type for Pharmaceutical Packaging Equipment
Durable Technologies has been supplying them with a wide range of brass and steel coding type over the years for a lot of different marking applications. Durable manufactures Norwood type for their imprinters/hot stampers (typically used together with hot stamp ribbon), brass and steel code pins with sunk and raised characters for both Weiler and Rommelag B/F/S (Blow/Fill/Seal) machines, including single character and custom 2-, 3-, and 4-character logos.
The Director of Procurement states that "Durable supplies us with a wide variety of type including steel and brass type, as well as many different custom characters and logos that allow us to comply with all FDA regulations for package date coding and part traceability.
The Durable steel type is perfect for our hot stamping process and creates an indelible impression in the side of the plastic molded vial. This direct part marking identification is a permanent feature of the vial and gives us excellent downstream part identification."
He continues, "We make over 1 billion vials a year and the deep package date coding type product line from Durable allows us to mark all of the various combinations of plastic formulations and data requirements.
Recently we had a problem and needed some package date coding type quickly and Durable delivered. We received the steel type we needed in a few days - Durable made the impossible possible and helped to keep us up and running."
Read the story about Replacement Metal Type for an Unidentifiable Package Sealer/Coding Machine
Brass or metal replacement type
Companies that use the B/F/S (Blow/Fill/Seal) machines are ideal candidates for Durable's brass or metal replacement type. Fabricators using the B/F/S machines need consistent, high-quality date codes to properly mark the critical information required on the package.
These companies should look for replacement type from manufacturers like Durable who specialize in creating replacement type for OEM packaging machines.
Some of the more popular OEM packaging machines* we manufacturer replacement type for include:
Weiler and Rommelag B/F/S (Blow/Fill/Seal) machines
Norwood® Imprinters
Markem® Touch Dry Coders
Jones® Cartoners
Open Date® Labelers
Norden® Tube Fillers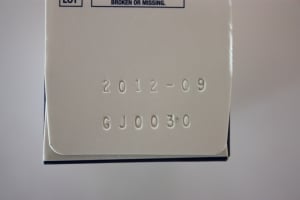 For a complete list of the OEM packaging machines we supply compatible replacement type for, click here.
We also can match your existing type from a drawing or samples for those OEM's not listed.
Click here for more information on our Hot Stamping Foils and Ribbons.
Click here for more information on our Hot Melt Ink Rolls.
*We supply type and logo dies for the OEM's listed above but in no way indicate the manufacturer's endorsement.
This post was published on February 9, 2022 and updated on February 9, 2022.