Life is just a little bit sweeter for the folks at Sugar Bob's Finest Kind in Rutland, Vermont after finding a solution for their missing metal package date coding type.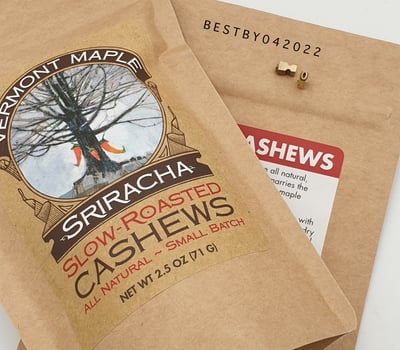 Rob "Sugar Bob" Hausslein and his co-owner added roasted nuts to his product line-up, which includes their award-winning smoked maple syrup. Included in the acquisition of the nut-roasting division was a Chinese heat sealing and coding machine.
Sadly, they found that their coding type set was not complete. They were missing a "2" and were faced with using an upside-down "5" or "S" as a substitute.
Not surprisingly, they found making an inferior mark in conflict with their brand.
Katy at Sugar Bob's Finest Kind was tasked with the difficult task of finding the specific coding type they needed while having little helpful information to go on.
The package coding and sealing machine had no markings whatsoever and the original manufacturer could not be determined. Katy took to Google and quickly found Durable Technologies online.
*See the photo below showing the original type and holder acquired by Sugar Bob's.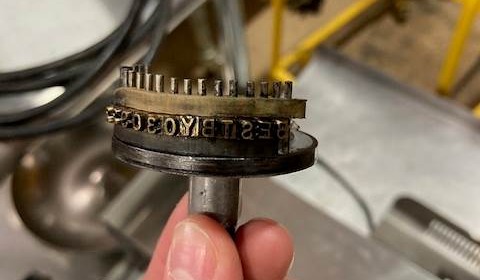 Sugar Bob and Katy were surprised and pleased to discover that Durable Technologies was able to provide compatible brass type that would work with their machine.
"I thought it would lead down a rabbit hole but it led us straight into the heart of can-do made-in-USA old school industrial America with Durable Technologies and we ended up with type that was custom made, affordable, fit our machine like a glove, and coded with crisp definition that exudes pride of workmanship and translates that pride I'm sure all the way to our own customers," said Rob "Sugar Bob".
Package Date Coding
Whether package marking lot numbers, expiration dates, case codes, 2D barcodes, or general package date coding, Durable Technologies has the replacement metal coding type and dies, type holders, hot stamping foil, hot melt ink rollers, rubber type, inkjet fluids, and thermal transfer ribbons needed to be your date coding supply specialist.
Here are some more resources about package date coding solutions:
Replacement Type for Any OEM Packaging Machine
Durable Technologies is the largest manufacturer of replacement metal coding type and logo dies for all of the popular OEM equipment including Norwood® Imprinters, Markem® Touch Dry Coders, Jones® Cartoners, Open Date® Labelers, Norden® Tube Fillers, and many more.
This post was published on June 1, 2021 and updated on June 1, 2021.