From cartoners to tube fillers to hot stamp date coders, high-quality replacement metal type for packaging and date code machinery creates crisp, clear, durable marks.
Packaging Machinery Applications

Packaging machinery is used in many industries and applications to permanently mark vital information including expiration dates (EXP), lot numbers (LOT), Best By, Sell By, serial numbers and more.
There is a correspondingly wide range of machinery used in these "date coding" applications including cartoners, sealers, tube fillers, labelers, wrappers, thermoform (blister packs), F/F/S (form/fill/seal), B/F/S (blow/fill/seal), and imprinters that are used for both hot and cold marking of labels, tags, packages, cartons, tubes, and boxes on a variety of substrates (most commonly cardboard, plastic, and flexible packaging material).
The one thing that all these machines and applications have in common is that they use either metal type or logo dies to create their marks, and periodically they will need to be replaced.
To ensure that consistent, high-quality date codes are being produced, users should look for replacement type for packaging machinery from manufacturers who specialize in creating replacement type for OEM packaging machines.
OEM Packaging Machines Replacement Type
Some of the more popular OEM packaging machines* we manufacturer replacement type for include:
Norwood® Imprinters
Markem® Touch Dry Coders
Jones® Cartoners
Open Date® Labelers
Norden® Tube Fillers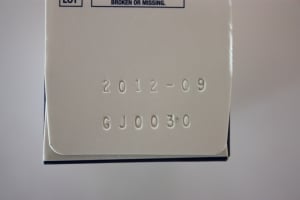 For a complete list of the OEM packaging machines we supply compatible type for, click here. We also can match your existing type from a drawing or samples for those OEM's not listed.
Click here for more information on our Hot Stamping Foils and Ribbons.
Click here for more information on our Hot Melt Ink Rolls.
Different Packaging Type Bodies
Although it is not practical to detail all of the potential packaging type bodies (blank style), click here and scroll down to see some of the more popular blank styles to assist with ordering.
Related Posts Highlighting our Replacement Type in Action
Learn More
You can learn more about our replacement date coding type for packaging machinery here or by contacting us at any time.
*We supply type and logo dies for the OEMs listed above, but this does not indicate a manufacturer endorsement.
This post was published on July 18, 2023 and updated on July 18, 2023.