Metal stamps and dies are some of the best steel marking tools available. One of the greatest advantages of metal marking stamps is their versatility. Press style steel stamps can be used for impact marking machines, punch presses, press brakes, and other machines.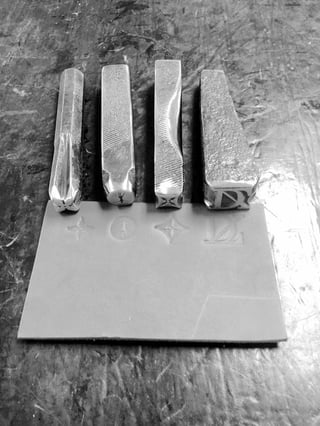 Advantages of metal stamps:
Clear marks
Durable
Permanent
Economical
Raised or sunk characters
Alpha-numeric text, logos and special characters available
Our steel stamp products are:
Interchangeable - standard blank size enables use of multiple character sizes with same holder
Durable - through hardened and annealed at hole for toughness
Heavy Duty - long life because they are made from special tool steel
Steel Stamp Holders
Metal marking stamps can be used with a wide variety of hand stamp holders. We offer several styles to promote operator safety, including:
Safety First stamp grip
Adjustable hand stamp holder
Strap-style adjustable stamp holder
Jumbo strap-style hand stamp holder
Each of these styles is designed to aid users by providing an easy-to-grip hand handle that keeps the operator's hand out of harm's way.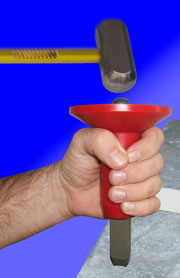 The Safety First stamp grip holder is made from urethane and features a proprietary heat treated anvil and 4" diameter hand shield to better protect the operator's hand. It's the Cadillac of hand stamp holders. This is an ideal solution for operators that prefer to hold a stamp in their hand, rather than a holder, because this holder is designed to act as an extension of the hand stamp itself. Watch a video of the Safety First holder here.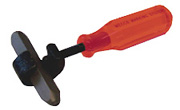 The Adjustable metal stamp holder clamps the hand stamp at the end of a handle and is designed to remove the operator's hand from the striking zone entirely.
The Strap-style and Jumbo strap-style steel stamp holders lock the hand stamp into place with an adjustable nylon strap.
All four hand stamp holder options aid in creating crisp, clear marks and promote operator safety!

What Our Customers Are Saying About Our Holders
Amy Bruecks of City Car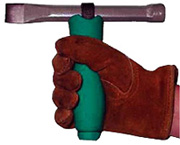 bonic Sales & Service in Oklahoma City, OK had a problem - the hand stamps used to mark compressed gas cylinders were not only c
osting them money but were causing injuries to the employees using them. "We were tired of having employees getting hurt and needed to find a supplier that made a product that could mark the cylinders as per the regulations without causing injuries to our employees," states Ms. Bruecks.
"These types of holders, along with the higher quality hand stamps from Durable Mecco, have completely eliminated the mushrooming and shrapnel issues for our employees. Our mark quality is better, our process is safer, and we save money on replacement stamps. Durable Mecco has delivered the best hand stamp products we have seen," said Ms. Bruecks.
Learn More
Learn more about steel stamps and holders in the new, free Guide to Traditional Industrial Marking! Or contact us to request a quote.
You Might Also Be Interested In
Which Steel Hand Stamp is the Right Stamp for You?
This post was published on December 20, 2016 and updated on December 20, 2016.