Portable ink jet printer guns allow users to directly mark substrates in the field with a portable, easy to use, handheld marking "gun."
The Durable HandJet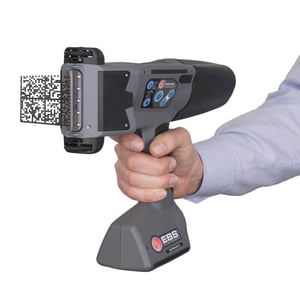 Ruggedized to stand up to harsh conditions in the field, the HandJet 250 and 260 (the newest model) are an ideal solution for those looking for an easy to use product identification solution. The HandJet offers users a low maintenance, versatile, and affordable solution.
Extremely versatile, this portable ink jet printer gun allows users to create messages on their PC and transfer them to the HandJet via a Bluetooth module for a cable-free transfer experience. The ink cartridges are available in a variety of formulas (ethanol-, acetone-, and MEK-based) and colors to meet your printing requirements.
The HandJet model offers an affordable upgrade to traditional hand coders (such as stencil machines, rubber hand stamps, and roller coders). This portable ink jet printer is perfect for a wide range of applications where product identification and portability are a must.
This portable marking gun can print alphanumeric text, sequential numbering, automatic date and time, logos and bar codes (260 model only) onto porous and non-porous substrates.
Check out our HandJet portable ink jet printer gun in action in the video below!
Learn More
Durable Technologies is a full-service manufacturer and supplier of direct part marking solutions for just about any material and industry.
Contact us to talk with one of our marking experts to see the Durable Difference and how we can help you make your mark.
You may be interested in these related posts:
This post was published on January 8, 2019 and updated on November 27, 2019.