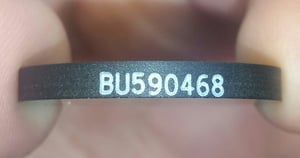 Stephanie Dean is the Production Planning/Purchasing Manager for Omega Optical and she had a problem. The supplier of brass type they used to mark the edges of coated optical filters no longer supplied the parts they needed. Stephanie did an Internet search and found Durable Technologies.
Omega Optical is a leader in photonics, exploring the latest technologies to produce the best in optical interference filters. Omega Optical uses brass type in their Markem 2100 pad printer to label batch numbers on the edges of coated optical filters and glass. There are many end uses of these products and they are used in many industries including aerospace, medical, astronomy, military, etc.
Stephanie Dean says, "Markem-Imaje could no longer supply the replacement brass type for our machine and they recommended Durable Technologies. Most parts for our machine were discontinued and Durable Technologies stepped in and helped us solve this problem by creating perfect replacement brass type letters and numbers that fit our machine. The experts at Durable clearly understood our needs and paid a lot of attention to detail. The brass type characters were wide, legible, and precise, making the label on our filters super easy to read."
Hot Stamping Type and Dies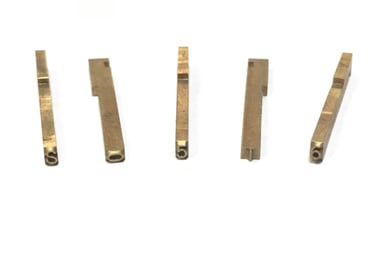 As the premier type supplier in the country, Durable Technologies manufactures brass and steel logo dies and packaging type used for coding, imprinting, labeling, embossing, and debossing. We are the largest manufacturer of replacement metal coding type for all of the popular OEM equipment including Norwood® Imprinters, Markem® Touch Dry Coders, Jones® Cartoners, Open Date® Labelers, Norden® Tube Fillers, and many more. Our replacement packaging type and steel stamp dies are commonly used in cartoners, sealers, tube fillers, labelers, wrappers, thermoform and imprinters for hot or cold marking of labels, tags, packages, cartons, tubes, boxes, and plastic. Click here for more information on our OEM alternative date coding type.
If you want to see how Durable's hot stamping dies helped another longtime customer deliver legible and consistent pharmaceutical package marking, check out our testimonial Hot Stamping Coding Type for Pharmaceutical Packaging. Or you may contact us to request a quote.

This post was published on September 5, 2018 and updated on September 5, 2018.