Branding is a practical and economical way to permanently mark almost any material besides metal and glass. Wood is frequently branded to advertise a trademark, logo or manufacturer's name or to "sign" or individualize a craftsman's work. Branding is also used to identify tools or equipment for personal or security purposes. Customized metal hot stamp dies are a great way to brand a variety of products.
Glen Dobi, owner of Dobi Associates, developer of the CedarCraft product line of custom garden planters, has some pretty demanding customers so their partners need to be up to the task of responding at a moment's notice. Their steel hot stamp dies and branding iron dies are used to permanently mark the cedar wood for the garden planters and cedar grilling planks with brand marks and use instructions.
Durable Technologies fit the bill as their go-to partner for custom metal dies.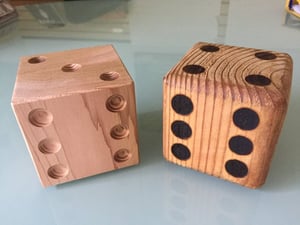 Steel Hot Stamp Dies
Our hot stamping dies can be customized based on your particular marking requirement. Based on the artwork or image that you provide, we will recommend the appropriate die material that is best suited for your budget as well as the volume of parts that need to be marked.
In addition to custom logodies, we also manufacture individual letters and numbers for monogramming or personalizing using any number of popular printers including Kingsley®, Kwikprint®, AAmstamp®, Kensol Franklin®, Jackson®, Gibson®, Howard® and virtually any other hot stamping machine. Typical applications include leather goods, book bindings, personalization items, ribbons, greeting cards, napkins, matchbooks, labels, rubber, advertising specialty items and more.
Branding Dies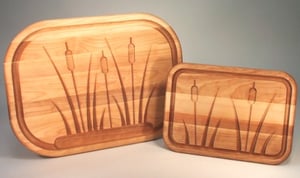 The Vermont Bowl Company, a division of John McLeod Ltd, thinks of brands in two ways: one is the marketing idea of the perception and understanding of what your company stands for and the other is a physical brand, as in a branding iron that permanently imprints the custom wood products they produce.
"We use Durable Technologies' custom hot stamping dies and branding irons to create logos and other custom graphics on our wooden products," said Vice President Tom Fox.
Materials suitable for branding include cork, chamois, leather, plastics, paper, rubber, wood, particle board and wallboard, even meat and cheese! Durable Technologies branding irons have been used for branding barrels, batteries, boxes, brooms, cardboard cartons, crates, chairs, cork, electrotypes, ladders, lumber, milk crates, pallets, plastic parts, reels, rubber gloves, rugs, spools, utility poles, tires, tool handles, trucks, wooden furniture and much more.
Magnesium Imprinting Dies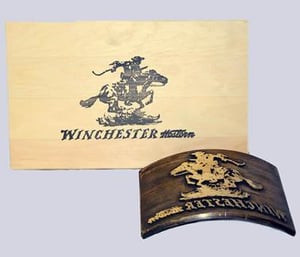 Vintage Editions is a specialty wood manufacturing company located in the foothills of North Carolina. They produce a variety of boxes, beer cases, trunks, cupboards, picture frames, fishing rod racks, chalk boards, benches, wine racks, tables, chairs, desks and wooden bars. Using sublimated artwork and embossed printing, they customize numerous promotional and personal items.
Read how they use our Magnesium Imprinting Dies to make their mark on some pretty tough materials by clicking here.
Contact the experts at Durable Technologies for all of your steel hot stamping and branding needs.
This post was published on April 7, 2020 and updated on April 7, 2020.