Gabriel Hargett, Oowee Products Founder, needed some to add some large monogramming to his personalized items and he knew just who to call to get the custom brass type sets manufactured.
Durable Technologies worked with Gabriel to create a custom set of large typeface brass type that was both rugged enough to mark tough leather products and precise enough to leave the type of mark Oowee Products customers are accustomed to seeing.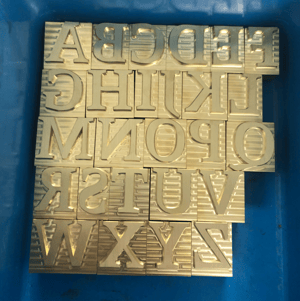 Oowee Products needed both 3/4" and1-1/4" character type sizes for this project. Both were made with extra engraving depth for stamping leather beverage holders, custom keychains, beverage sleeves, luggage tags, and other custom-made items.
These brass alphabet sets are much larger than your standard type sets made by most other manufacturers.
"Chris and the team at Durable Technologies have always been great to work with. He figured out a way to get the price where we could afford it while still making sure to get the quality right. He is very responsive and was patient to make sure we got this done right. We always have a great experience working with the team at Durable Technologies," says Mr. Hargett.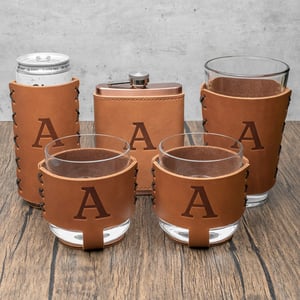 Oowee Products uses a modified commercial press similar to an Arbor press, or commonly known as a hot foiling machine, to apply heat and pressure in order to permanently burn the initials into the leather products.
"The Durable Technologies custom brass type makes our lives so much easier because we can count on a great mark every time. People love to be able to customize their purchases and we love the way the brass type makes us look good!" states Mr. Hargett.
To see all of Oowee Products, please click here to view their catalog.
This is not the first time Gabriel shared his success story on our website. Here is a link to the last one he did in 2016 after purchasing custom hand stamps from Durable Technologies.
Brass and Steel Printers' Type and Dies for Hot Stamping
Our wide variety of brass printers' type styles will fit any need for monogramming or personalizing in such printers as Kwikprint®, Kingsley®, AAmstamp®, Kensol Franklin®, Jackson®, Gibson®, Howard®, and virtually any other hot stamping machine.
Typical hot stamping applications include book bindings, personalization items, leather goods, ribbons, greeting cards, napkins, matchbooks, labels, advertising specialty items, and more.
Our high-quality brass type and dies are a great value since they will far outlast cheap alloys such as zinc and lead type.
We offer SAME DAY SHIPPING on stock type (our News Gothic and News Gothic Condensed type styles) in certain point sizes. We maintain the largest inventory in the country of all-purpose straight body type in both brass and steel used for a wide variety of hot stamping, coding, and imprinting applications.
This post was published on September 21, 2021 and updated on September 21, 2021.