If a referral is the highest compliment a customer can give a manufacturing partner, then we appreciate the compliment from Foster Manufacturing Co.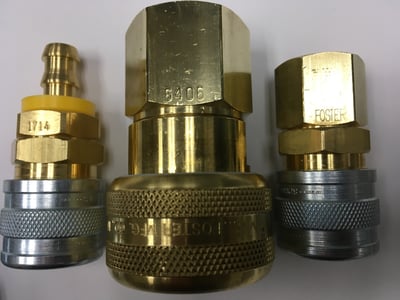 Kevin Holbrook, Engineering and Plant Manager, from Foster Manufacturing in Springfield, MO, has been ordering custom steel stamps from Durable Mecco since 2014.
Kevin says, "We have a new vendor, and I told them about Durable Mecco and the reliable service you've provided Foster over the years. I should say it more often…I truly appreciate you and your team at Durable Mecco! I can always count on you!"
Thank you for the kind words and the referral, Kevin!
Foster Manufacturing produces hydraulic and pneumatic quick disconnects at very high volumes so they need a direct part marking solution that holds up to some tough production conditions.
The main metals marked are C360 brass, 303 and 316 stainless, and 12L14 steel.
The Durable Mecco supplied steel stamps are used to mark a hex bar: one flat side is a part number, and the other flat side is marked with the Foster brand logo. The marking characters are between .070" and .090" tall.
Foster uses custom-built mechanical stamping machines that mark one quick disconnect part per second.
Steel Stamps and Steel Dies From Durable
Durable Technologies specializes in creating customized steel stamps and marking dies designed to identify a wide range of industrial products. Each die blank is expertly crafted to meet the user's exact specifications, ensuring that our custom dies to meet all requirements for marking machines, punch presses, press brakes, and other equipment.
Our versatile custom stamps can mark flat, curved, concave, or convex surfaces. Our stamps can handle it all: part numbers, patent numbers, trade names, trademarks, special lettering, or other data.
We provide different styles of steel stamps, including:
Embossing dies
Roll dies
Custom steel stamps
Custom inserts
Die segments
When it comes to steel marking dies, Durable Technologies provides the best tools in the industry. See what our customers have to say:
Click here to read the story of Stan-Den Tool using Durable Technologies steel stamping dies to mark metal components of HVAC systems.
Read this story about Eagle Tool Group and how they successfully used Durable Technologies roll dies to mark forged clamps and bolts permanently.
Click here to read the story of Monolith Studios using Durable Technologies' custom steel stamping dies to mark high-performance knives.
This post was published on March 23, 2023 and updated on March 23, 2023.