Durable Technologies' steel type is unmatched in durability and safety.
Steel type makes an ideal solution for marking metals as well as harder plastics or long production runs. Our steel type is made from hardened and tempered tool steel which keeps replacement costs to a minimum.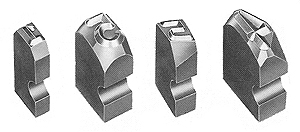 Designed to satisfy every industrial marking application where interchangeable information is required, our steel type comes in a variety of standard sizes and shapes. For applications where a custom solution is needed, we manufacture and design custom steel type for any application!
Over the years we have been lucky to be able to share a number of steel type success stories. From a range of industries and in a variety of applications, our customer testimonials highlight how versatile steel type truly is. You can find some of our most popular posts below!

Coil & Spring Manufacturer Uses Steel Type for Product Identification
Heilind Electronics Uses Brass and Steel Type to Customize Connectors
Steel Type from Durable Hits the Mark for Packaging Machinery
American Calan Uses Durable Steel Type to Track Cows
Please contact us if we can be of help with your part marking requirements. From agriculture to bookbinding to electronics manufacturing to blacksmithing, we help you make your mark!
This post was published on February 17, 2016 and updated on October 15, 2020.