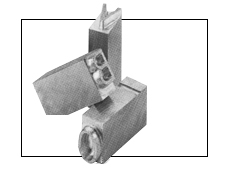 Heilind Electronics assembles, creates, and distributes value added connectors for a variety of industries. Heilind is the second largest interconnect company in the United States and 5th largest in the world. Their value added services depend to a great deal upon being able to label and mark any type of connector. Custom requirements include numbers, text, and logos marked precisely according to their customer's unique specifications.
Connectors come in a wide variety of shapes, sizes, and materials. Different materials include metals like brass, aluminum, and steel as well as plastics and other polyolefins. In short, Heilind depends on its marking capability to deliver custom, value added products to their customers. So they needed a marking products supplier that has the knowledge and experience to create custom tools in a short time and with great accuracy.
Durable Technologies answered the call from Heilind and delivers custom made brass and steel type for pad printing and offset printing. Durable Technologies also makes custom made logo dies that are used to hot stamp terminal strips as well as heat shrink connectors for specific product identification.
Rick Bailey, EM Technician for Heilind, says that "Durable Technologies gives us the tools to mark just about anything. Our sales people can be confident in selling just about any job no matter how small or large or complex and know that we can deliver on the marking and identification requirements. Everything we do is custom in the value added division so we need a supplier that can give us the marking expertise required to make our customers happy. We couldn't be happier with a supplier than we are with Durable Technologies."
Durable Technologies' wide variety of brass and steel printers' type styles will fit any need for monogramming or personalizing in such printers as Kingsley®, Kwikprint®, AAmstamp®, Kensol Franklin®, Jackson®, Gibson®, Howard® and virtually any other hot stamping machine. Typical applications include book bindings, personalization items, ribbons, greeting cards, napkins, matchbooks, labels, leather goods, advertising specialty items and more. Durable's high quality brass type and dies are a great value since it will far outlast cheap alloys such as zinc and lead type.
Durable offers SAME DAY SHIPPING on stock type (our News Gothic and News Gothic Condensed type styles). Durable maintains the largest inventory in the country of all-purpose straight body type in both brass and steel used for a wide variety of hot stamping, coding, and imprinting applications.
If you want to see how Durable's hot stamping dies helped another longtime customer deliver legible and consistent pharmaceutical package marking, check out our testimonial Hot Stamping Coding Type for Pharmaceutical Packaging. Or you may contact us to request a quote.
This post was published on November 5, 2013 and updated on March 30, 2015.