A long time customer of Durable Technologies is a leading manufacturer of coils and springs that are hot wound or cold wound. The springs are all different sizes and used in many different industries and applications including automotive, aerospace, machinery, agriculture, construction, military, petrochemical, valves, material handling, and power generation. They mark part identification numbers on the springs.

All of these springs require direct part marking for product identification and logo imprinting. For over 10 years this Durable customer has purchased steel type for marking from Durable Technologies.
The customer uses a hydraulic cylinder with the steel type in a holder to hot stamp some of the coils. The rest are marked with a cold bar stamping technique using a holder and steel type compressed with an air cylinder.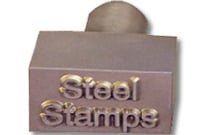 All of the steel type Durable makes for this manufacturer are made from M-2 steel, so they can withstand the heat from hot stamping and are sturdy enough to stand up to marking a pretty tough steel material.
The Process Engineer responsible for the stamping operations says that "Durable is helping us to organize stamping operations and to define a stamping program that matches our internal processes so that the stamp and material match the spring being marked so the parts last longer. Durable is excellent to work with and has created an easy ordering process with consistent quoting to optimize the quantities and timing of type deliveries."
He also adds that "this is a tough environment and the steel type lasts a long time so the quality and reliability makes Durable's steel type a great tool for us."
Durable Technologies can supply custom type, logos, and steel stamp dies with any style typeface or font (including OCR), foreign languages, or any other custom symbol or logo.
Contact us to see if we can help you with your steel type and other direct part marking needs.
This post was published on November 13, 2012 and updated on October 15, 2020.