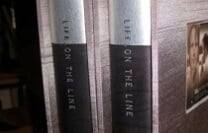 Hot stamping is an incredibly versatile and economical marking solution. With the ability to create beautiful and consistent marks and logos, hot stamping is ideal for applications like book binding, personalization, cosmetics, and even more technical applications like wire marking and heat shrink sleeving. There are a number of different material options when it comes to hot stamping type and logo dies and further below we break down the basics of brass type, steel type and magnesium imprinting dies.
Brass and Steel Hot Stamping Dies
Our most popular metal for producing type and custom logos is brass. Brass is an affordable, general-purpose material that is ideal for short to medium production runs and can be used to mark books, leather, plastics, paper and wood. Our brass type is typically more expensive than alloy type, but brass creates a crisper, cleaner mark and lasts much longer.
Our steel type is the most durable and long-lasting material available. The durability of steel makes it ideal for marking harder plastics or for longer production runs. Custom logo dies are available in either material, brass or steel, and is a good solution if your text is going to remain constant throughout the production run.
Magnesium Imprinting Dies
Magnesium imprinting dies are ideal for short production runs and can be used for labeling and printing in virtually any imprinting machine. This versatility is expanded by the ability to foil print on plastic, leather, wood and paper. These dies are available unmounted or mounted type high (.918".) Magnesium dies are also ideal for stamping the following items:
Greeting cards
Labels
Book Bindings
Matchbooks
Ribbons and bows
Advertising specialties
Letterpress
Jewelry boxes
Menu covers
Napkins
If you want to see how our hot stamping dies helped a long time customer deliver legible and consistent pharmaceutical package marking, check out our testimonial Hot Stamping Coding Type for Pharmaceutical Packaging. Or you may contact us to request a quote.
This post was published on July 16, 2013 and updated on March 19, 2015.