Champion Gasket of Walled Lake, MI, a supplier of custom die-cut products, uses Durable Technologies' custom hand stamps to make their mark. Champion Gasket produces gaskets, BSR pads, anti-rattle products, insulation, bumpers, shims, spacers and many other custom products that require a certain level of permanent identification to meet automotive and other industry standards.

Champion Gasket uses stamping presses with steel ruled dies to cut the parts to final shape. Durable Technologies supplies custom hand stamps that are two inches wide with 3/32" sharp face characters. These custom heavy duty hand stamps are inserted into the steel ruled dies and create the permanent mark when the press cycles and cuts the parts.
"The hand stamps we get from Durable Technologies are very high quality and last a long time even though our process is pretty tough on them" says Jacob Dubuc, Quality Manager. "Durable is always very responsive and gets us the custom stamping dies quickly, correctly, and at a good price."
These dies stamp part numbers and revision numbers into the parts as per the customer's specifications. The part materials being die-cut include plastics like nylon, teflon, polypropylene, UHMW, LDPE and HDPE. These custom parts are used across a variety of industries including automotive, aerospace, construction, and electronics.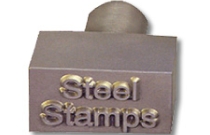 Durable Technologies' steel stamps and marking dies are custom engineered for identifying a variety of industrial products. Every die blank is skillfully machined to the user's specifications. Our custom dies satisfy any user requirement for marking machines, punch presses, press brakes and other machines. Our custom stamps can be made for marking on flat, curved, concave or convex surfaces - for stamping part numbers, patent numbers, trade names, trademarks, special lettering or other data. Durable Technologies' stamps for steel marking - the best steel marking tools available.
Contact us today to see how we can help you with your stamping die requirements.
This post was published on July 24, 2012 and updated on October 15, 2020.