Roll marking is an excellent solution for industrial applications where the part or marking surface is too delicate or prone to damage to be marked by a traditional impact press because the mark itself is rolled onto the part being marked. When paired with a roll die, roll marking presses allow users the flexibility of customization and permanent, precise markings in industrial settings.
Roll Marking Press Options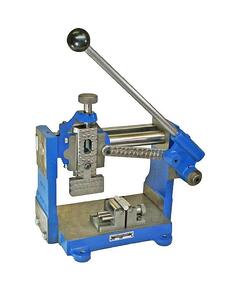 We offer two roll marking press options: a manual roll marking press and a pneumatic roll marking press.
Our manual roll marking press stamps characters up to 1/4" tall characters in aluminum and 5/32" characters in mild steel and is designed to be used for lower volume marking requirements. Using the standard adjustable holding fixture, this hand-powered press press can mark parts from 3/8" to 1-5/8" diameter. Compatible with numbering heads, type holders, and custom dies, the manual roll marking press is an excellent solution for marking and adding customization.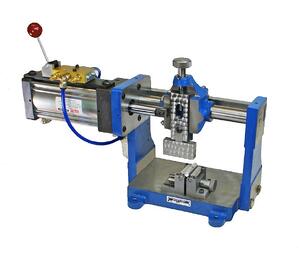 For larger-scale operations with higher volume, our pneumatic roll marking press is a better option. Similar to the manual version, this air operated press can mark parts from 3/8" to 1-5/8" diameter.
Both of our roll marking presses are able to incoporate oversized endplates for marking larger diameter parts (up to 5-7/8" diameter). Both are benchtop size with modest footprints so they can be easily added to an existing setup.
Learn More
Learn more about roll marking tools in the new, free Guide to Traditional Industrial Marking! Or contact us to request a quote.
This post was published on August 20, 2019 and updated on August 20, 2019.