What is Roll Marking?
Roll marking is a type of marking method that uses a roll die mounted on a roll marking press, engine lathe, turret lathe, or screw machine. The die form is circular and the machine applies pressure as the die is rolled over the marking surface. The die rotates on an axle/shaft and the face of the die rolls over the marking surface leaving a permanent impression.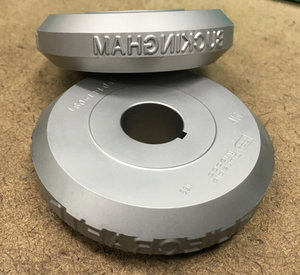 With this type of marking method, the mark itself is rolled onto the marking surface. This is an ideal method for applications where the marking surface is delicate or might be damaged by the pressure applied with a typical impact marking press.
Roll Marking Tools
Roll marking, like most marking methods, requires a marking die. Roll dies, as we mentioned above, are circular dies with a marking face on the outside circumference with a hollow center for mounting. Roll dies can be made with one or more lines of interchangeable type or the copy can be engraved directly into the roll stamp for when the text to be marked remains constant.
Our roll stamps are manufactured using high quality steel for a long, reliable life span.
Additionally, the roll marking process requires a machine that the roll die can be mounted on. There are a number of types of machine that can utilize roll dies including a roll marking press, engine lathe, turret lathe, and screw machine.
What Our Customers Are Saying
Kent Hascall, Sales Manager of Eagle Tool Group, says "We have dealt with Durable Technologies for 4-5 years, and their pricing is very competitive and the roll die delivery has been excellent. We always get a digital proof of the dies we need promptly so that we can confirm the setup is correct and then they always turn the finished dies around quickly. We appreciate the attention to detail from the Durable Technologies team and that is borne out in the high quality of all of the roll dies we buy from them."
Learn More
Learn more about roll marking tools in the new, free Guide to Traditional Industrial Marking! Or contact us to request a quote.
This post was published on September 28, 2016 and updated on September 28, 2016.