Ideal for use in many types of marking machines, our roll dies combine the flexibility of customization with the long life and durable construction of steel.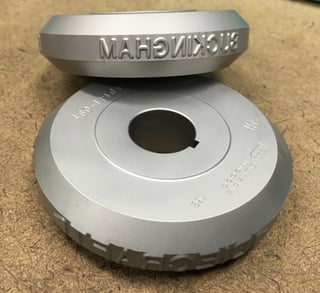 Roll Dies
Roll dies are one of the types of customizable steel stamps and dies manufactured by Durable Technologies. They are used to mark parts being machined on a number of marking machines including:
Roll marking press
Engine lathe
Turret lathe
Screw machine
Customization
Our steel roll dies are highly customizable, offering nearly infinite variety to suit most application requirements. Roll dies can be made for one or more lines of interchangeable type and customized with combinations of solid logotypes and individual characters. We also offer a number of character options including:
Sharp face
Low stress
Flat face
Concave face
Convex or spherical
Advantages of Steel
Steel dies offer users a number of advantages. One of the most apparent advantages of steel is life span. Steel is a durable construction material that offers users a long service life, making steel roll dies a cost effective solution.
Steel also creates clear, permanent marks and is strong enough to mark a wide range of materials such as metals, plastic and wood.
Learn More
Learn more about custom metal stamps and dies in the new, free Guide to Traditional Industrial Marking! Or contact us to request a quote.
This post was published on June 8, 2016 and updated on July 27, 2016.