Metal stamps and custom steel dies are some of the best and most flexible steel marking tools available.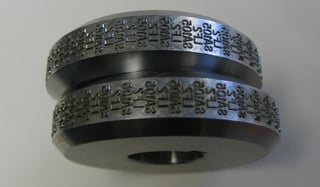 Our custom steel dies are commonly used to identify a variety of industrial products. Every die blank is skillfully machined to the user's specifications.
Advantages of Using Traditional Steel Dies
Steel dies offer several advantages over other marking methods, including:
Clear marks
Durable
Permanent
Economical
Raised or sunk characters
Alphanumeric text, logos, and special characters available
Flat dies, roll dies, and male/female embossing dies available
Download the Guide to Traditional Industrial Marking to learn more about steel dies!
Our custom dies satisfy any user requirement for marking machines, punch presses, press brakes, and other machines.
Our custom stamps can be made for marking on flat, curved, concave, or convex surfaces - for stamping part numbers, patent numbers, trade names, trademarks, special lettering, or other data.
Types of Custom Steel Dies
Embossing Dies - Our custom steel embossing and coining dies are most often used in the sheet metal industry. These male and female dies produce permanent and legible raised letters, including trademarks, code symbols, ornamental patterns, or virtually any specific design, on various gauges of sheet metals.
Roll Dies - For marking parts being machined on an engine lathe, turret lathe, or screw machine, these rolls can be made for one or more lines of interchangeable type, or with combinations of solid logo types and individual characters.
Custom Roll Dies - Durable Technologies' steel roll dies are fully customizable. We offer a wide variety of designs and configurations to suit most application requirements. Roll dies can be made for one or multiple interchangeable typestyles and customized with combinations of solid logo types and individual characters.
What Our Customers Are Saying
Michael Eugley, Tool & Die Designer at GE Energy, says "I knew Durable Technologies from a previous employer and when we needed help we turned to them. They know the right questions to ask so that we do not miss any critical issues during the design of the custom steel stamping dies."
Mr. Eugley also says that "Durable Technologies has bent over backward to help, their timing and delivery is excellent, and everyone has a great attitude and is very professional, and we especially value their depth of custom die-making experience. Durable now supplies us with all of our dies which is the best compliment we can offer."
Kent Hascall, Sales Manager of Eagle Tool Group, says "We have dealt with Durable Technologies for 4-5 years, their pricing is very competitive, and the roll die delivery has been excellent. We always get a digital proof of the dies we need promptly so that we can confirm the setup is correct and then they always turn the finished dies around quickly. We appreciate the attention to detail from the Durable Technologies team and that is borne out in the high quality of all of the roll dies we buy from them."
Learn More
Learn more about custom metal stamps in the new, free Guide to Traditional Industrial Marking! Or contact us to request a quote.
This post was published on June 23, 2021 and updated on June 23, 2021.