Steel type makes an excellent permanent marking solution for any application where interchangeable information is required, and steel type holders ensure a perfect mark is made.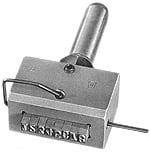 Durable Technologies manufactures a number of different styles of steel and brass type for part marking. Our all-purpose utility type and heavy-duty slotted type, however, are the most common and are commonly used for industrial part marking requirements. Many applications that make use of steel type rely on machinery to apply an even pressure and ensure proper marking. The importance of careful and even distribution of pressure to the final outcome means that the type holder used is of vital importance.
We manufacturer a number of standard steel type holders for use in some of the most common machine types, but we also create custom type holders to application specifications. Steel type holders can be supplied with a shank for press style use or a simple hand-held version that can be struck with a hammer.
All of our utility type and holder sets are flexible and rugged enough to meet most any manual marking application. Made from special tool steel for long life and dependable service, our steel type holders have found their way into a huge range of industries and applications. You can find some of our most popular steel type holder application success stories below!
The Key to Tracking Locks is Durable Mecco Steel Type and Holders
Engraved Steel Type and Holders for Wire Marking
Click here to see how Durable Technologies can help you make your mark with steel type and holders. Please contact us if we can be of help with you part marking requirements. From agriculture to bookbinding to electronics manufacturing to blacksmithing, we help you make your mark!
This post was published on March 1, 2016 and updated on October 20, 2020.