Sandvik Materials Technology NAFTA is a leading manufacturer of welding wire and rod in a wide range of materials including stainless steels and nickel alloys. The rod and round wire, also know as filler material, made at the NAFTA facility is available with a wide range of coatings and a variety of surface finishes. Sandvik wire is supplied on spools, in coils or as straightened lengths. The wire is used as filler material for welding in the oil and gas, automotive, food transportation and handling, exhaust systems, and many other industries.

Sandvik's product range of rod and round wire includes, for example:
Austenitic stainless steels

Duplex stainless steels
High-alloy stainless steels
Nickel alloys
Special carbon steels
With the wide range of materials being used, Sandvik needs a robust and reliable method to identify all of the types of welding wire.
"We manufacture TIG welding rods in 3' lengths and use stamping dies with steel type characters to make permanent marks for product identification. Our stamping process is automated and we add the Durable Technologies holders and stainless steel type to stamping dies and use the press to imprint the mark. Durable Technologies has offered excellent customer service and they are great at making sure any issues are made right quickly. Their prices are fair, which matters these days, and the delivery and quality of the steel type and holders is outstanding," says Dan Thole, Process Improvement Manager for Sandvik Materials Technology NAFTA.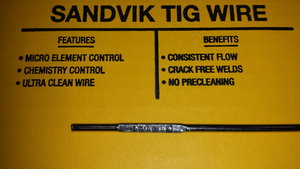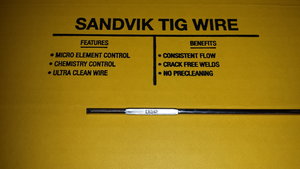 Since 1889, Durable Technologies has provided the highest quality steel marking products for the toughest industrial applications. Durable Technologies steel marking tools are designed to provide maximum safety and durability. Durable Technologies offers a complete line of spring actuated manual impact presses, pneumatic impact presses, and roll marking equipment for new marking applications as well as upgrades from current methods of marking.

All-purpose utility type and heavy-duty slotted type are used in industrial marking applications where interchangeable information is required. We also manufacture replacement steel type for all of the popular O.E.M. marking equipment including G.T. Schmidt®, Pannier, Matthews®, Hilti®, Columbia®, Automator® and more. Steel type holders can be supplied with a shank for press style use or a simple hand held version for use with a striking hammer.
Click here to see how Durable Technologies can help you make your mark with steel type and holders.
This post was published on April 14, 2015 and updated on October 15, 2020.