When a Manufacturing Engineer at a large manufacturing company needed a unique part identification system he came to the experts at Durable Technologies for a recommendation.
What was unique about his application? He needed a part identification system that permanently marked polyethylene parts without marring or damaging the surface.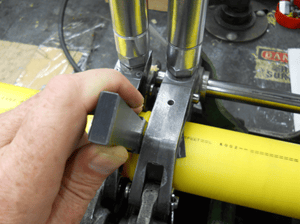 The solution is a Durable Technologies hand held steel type holder.
The type holder delivers date stamp coding with the following information:
Operator code

Week

Year

Machine Code
The manufacturer uses the stamps to make impressions in fusion joints (visualize two pieces of plastic being welded together) on valves, couplings, and fittings for natural gas utilities.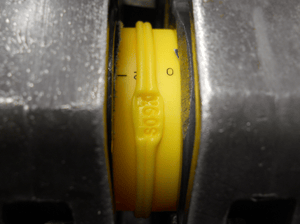 Operators stamp the molten polyethylene material of the joint with the date / traceability code that is unique to each operator, and as the material cools, the code is permanently set in the joint.
"I'm sure it's not one of the standard uses for your products, but we've found it to be a simple solution to our needs that is extremely effective.
Durable's hand held type holders are proven to be a cost-effective and time-saving solution for this unique application," states the Manufacturing Engineer.
Hand Held Steel Type and Holders
Durable Technologies' industrial steel type can be used with an impact press or with a hand held holder that you strike with a hammer, as was the case for this customer.
Standard characters sizes include 1/16", 3/32", 1/8", 3/16" & 1/4" for our utility steel type. Multiply the number of characters by the character size (equal to the blank size) to determine the correct pocket width.

For example, (6) 3/16" characters require a pocket that is 1.125" wide and (10) 1/8" characters require a pocket that is 1.25" wide.
Steel type and steel type holders are manufactured to your specifications. We use only the best tool-grade hardened steel to make these long-lasting and safe steel type and steel type holders.
Contact us today if we can help you solve your difficult, direct part marking challenges.
This post was published on September 15, 2021 and updated on January 25, 2022.