For small businesses, craftsmen, and artisans, direct part marking customization is an excellent way to differentiate their products.
The design and specification stages of a direct part marking solution, however, can present challenges for individuals that are not well versed in custom tooling manufacturing. This can lead some manufacturers to shy away from small run custom tooling, but Durable Technologies has created methods and processes which allow us to excel in this area where other manufacturers falter.
We can walk an artisan through the design process of creating custom tooling (like a hand stamp or die) from their artwork or designs. We're then able to run that design through our machinery in single or small run quantities. Because we have experience with this process and the mechanical capabilities already in place, the process is relatively easy and painless. The finished product is high quality and, perhaps most importantly, affordable to the customer.
Often times, however, the craftsman is new to the entire process of direct part marking customization. This can mean that they are unsure of which marking method will best suit their vision and budget. To help address this, we've created a guide to personalization with direct part marking.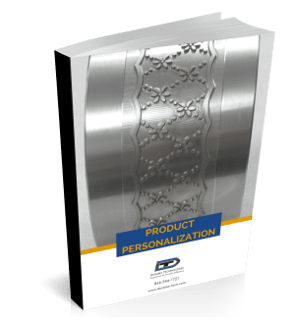 The Product Personalization Guide will help you to navigate through the direct part marking method selection process as well as explain some of the most common marking methods used for personalization. Each marking method is explained, including tools and basic setup information, and best-suited applications are detailed.
Included in the guide you will find:
Overview of challenges inherent in small run tools for customization
Key questions to ask when choose a marking method
Guide to hand stamps, hot stamping, branding, and press packages
Where to use each marking method
Examples of each marking method
Marking method comparison chart
The Product Personalization Guide offers insight into the variety of methods, marks, and options available for those looking to personalize their products. We believe that customization should be within reach of all creators, and that manufacturing custom stamps and dies should be a straightforward and affordable process.
You can download your copy of the guide here! Or contact us at any time to discuss your direct part marking application.
This post was published on October 17, 2023 and updated on October 17, 2023.