From TTO flexible packaging to carton coding, Durable Technologies provides our customers with a one-stop solution for printing production dates, expiration dates, storage life, bar codes, and more.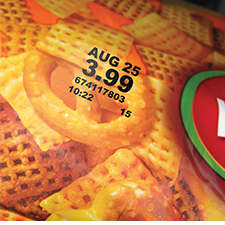 Our solutions offer a wide range of printing options for most packaging substrates applicable across many industries including food and beverage, cosmetics, pharmaceuticals, and manufacturing.
We offer multiple printing technologies for all stages of the packaging process with competitive pricing and fast shipments to simplify your buying process.
Thermal Transfer Ribbons
NET Flex+ compatible thermal transfer ribbons for Markem® SmartDate® and Videojet® DataFlex® TTO printers deliver crisp, dark imprints with print speeds up to 40ips. Black, white, and metallic white. Also available in 1100m & 1200m for longer length efficiencies. Ask us about our newest NET330 for hot fill applications. Click here to download Thermal Transfer Solutions: Flexible Packaging for Food.
Inkjet Fluids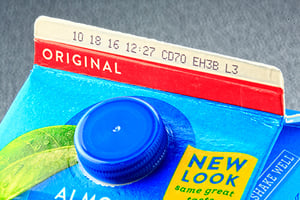 Durable Technologies is your source for high-quality inkjet fluids which meet or exceed the OEM standard. Our inks are precision manufactured for OEM compatibility to assure the utmost reliability. Ideal for primary coding applications, our CIJ inks, makeup, and cleaners are drop-in replacements, requiring no flushing, filter
change, or recalibration.
CIJ, DOD, and Hi-Res fluids are ideal for inline coding directly onto the product package or onto the corrugated outer cases.
Durable Technologies supplies equivalent inkjet inks and makeup for all the major OEM printers including Videojet®, Markem-Imaje®, Linx®, Hitachi®, Domino®, Foxjet®, and more.
Best of all, we offer FREE TRIAL SAMPLES of our inkjet fluids to anyone who is interested. Click here to download our Replacement Inks and Fluids Flyer.
Industrial Inks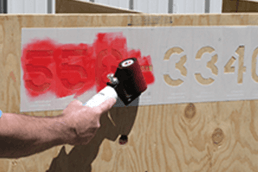 Not into digital printing yet?
We offer marking device inks for analog printing methods including stencils, rubber stamps, and stamp pads. A wide range of solvent inks deliver superior performance on hard to mark, non-porous surfaces such as plastic, metal, glass, aluminum, polypropylene, rubber, and wood. We even have inks for stamping hands at events and theme parks.
Contact us today and talk with one of our packaging and coding experts to see how we can help you make your mark.
This post was published on July 1, 2020 and updated on July 1, 2020.