"You provided the best service that I've received since entering this business."
We love our customers and work hard to provide a great service and buying experience every day. But it always feels good when our customers tell us when we're succeeding.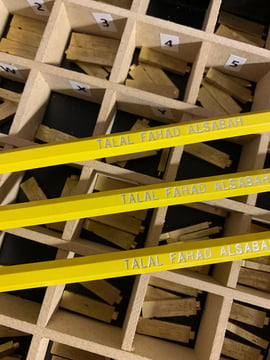 Norm Dula, the owner of Panther City Personals, is the author of the above quote. Norm had to go through some bad experiences before he found VisiMark during an online search.
Norm retired in 2019 and decided he needed something to do, so he set up an e-Commerce store selling personalized pencils.
Norm says that "I was always interested in direct part marking in general and hot stamping in particular. So, I bought a hot stamping machine, one of the few made in the United States, and some marking type. But it took six months to get the type from the hot stamping machine company, and when I got it the set was incomplete. I couldn't even stamp "Merry Christmas" on my items."
After finding VisiMark online, he reached out and realized that there are still companies that care pride in their customer service. Norm says that "Matt was patient and thorough in asking me all the right questions, so I got exactly what I needed. He even asked me to send him some of my existing type to match the body dimensions, so I knew the type would fit. I ended up needing custom Hutch (News Gothic) brass type, 10pt character on an 18pt body with extra engraving depth."
"The brass type works great and delivers an excellent mark on our pencils. My customers are happy, and so am I."
So are we, Norm!
Durable Technologies Brass Printers' Type for Hot Stamping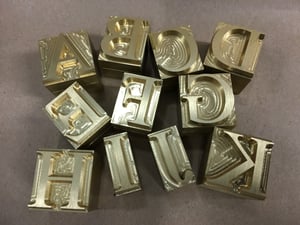 Our wide variety of brass printers' type styles will fit any need for monogramming or personalizing in such printers as Kwikprint®, Kingsley®, AAmstamp®, Kensol Franklin®, Jackson®, Gibson®, Howard®, and virtually any other hot stamping machine.
Typical hot stamping applications include book bindings, personalization items, leather goods, ribbons, greeting cards, napkins, matchbooks, labels, advertising specialty items, and more. Our high-quality brass type and dies are a great value since they will far outlast cheap alloys such as zinc and lead type.
We offer SAME DAY SHIPPING on stock type (our News Gothic and News Gothic Condensed type styles) in certain point sizes. We maintain the largest inventory in the country of all-purpose straight body type in brass and steel used for a wide variety of hot stamping, coding, and imprinting applications.
This post was published on July 7, 2021 and updated on July 7, 2021.