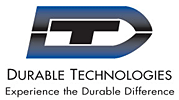 In their August edition, Marking Industry Magazine announced Durable Technologies as their Gold Manufacturer of the Year. In discussing Durable Technologies capabilities across multiple markets Marking Industry Magazine said, " The company's capabilities can be divided into five major categories: marking tools and supplies, marking machines, custom engraving, package date coding and hot stamping. By capitalizing on the technology and locations of the various divisions within its corporate family, Durable Technologies handles everything from short-run jobs from one- person shops to large-volume manufacturing for Fortune 500 companies."
Marking Industry Magazine's Anne Shadis met with Kari Lunden, Durable Technologies president and CEO, and Matt Martin, director of sales and marketing, to discuss how specialized marking and identification niches have played a role in the growth and success of Durable Technologies.
Anne Shadis: I know VisiMark is a leader in manufacturing the replacement metal date coding type for all the different OEMs. What other specific niches are there among the different divisions?
Kari Lunden: Our product mix consists of 28 percent in steel stamps, hot stamping dies, print dies, and other industrial marking devices; 26 percent in coding and printers' type; 22 percent in exterior signage and electronic billboards; 15 percent in marking machines, miscellaneous resale items and consumables; 5 per- cent in office marking products; and 4 percent in architectural interior signs and nameplates.
Each location has its specialty. At Durable Mecco, we manufacture the full range of industrial marking products with special niches in precision dies for the jewelry industry and embossing type for the canning industry. At VisiMark, we manufacture coding type for the packaging industry and specialize in printer's type for hot stamping. I believe VisiMark is one of few companies still producing type for book binders and for decorative applications.
Matt Martin: Monogramming and personalization is very popular right now. We've got some very well-known retailers using our decorative brass printer's type to personalize their handbags, wallets, belts and more. Most of the time, they're putting the consumer's monogram on the product. They have the option of debossing directly into the leather or they can use a colored foil, usually gold or silver, to make the letters pop.
Kari Lunden: Our sign company, Kay Gee Sign and Graphics, designs and fabricates exterior signs for banks, retail stores, restaurants and billboards and specializes in "way-finding" consulting for hospitals and universities in the area.
A.A. White Company manufactures interior signs and office marking products, along with specialty product lines for the Rhode Island jewelry industry.
Click here to read the entire article.
This post was published on September 4, 2012 and updated on March 19, 2015.