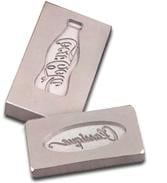 One of the things that makes marking technologies so exciting is the wide range of industries we can serve with our products. Each industry is unique and each company in that industry has unique challenges - but there are many common things that apply across industries and companies. Material marked, equipment used, mark type required, cycle time requirements, manual versus automated marking, these are just a few of the questions everyone wanting to direct part mark an item needs to answer. To each industry we serve, however, Durable Technologies brings experience and passion for direct part marking.
We invite you to take a moment to learn about some of the industries we serve, so that you can see just how truly versatile direct part marking is.
Every food and beverage needs a package, and every package needs to be marked for identification and traceability. Some packages need to be highly detailed with custom labels while others need to be produced swiftly or on the fly. For just about every product package type there are package labeling systems designed to meet the needs of our customers.
Marking for pharmaceutical packaging and coding is incredibly important. The information on both the pharmaceuticals and their packaging must be legible and clear so that accurate records can be kept, to combat counterfeiting, to track shipments, and to verify born on dates.
Government regulations, industry standards, and OEM requirements all make part marking necessary. In an industry where traceability and part identification is critical, direct part marking is essential for serial numbers, date codes, and other characteristics.
The art of jewelry making has a great need for marking solutions. Jewelry making requires all kinds of marks, from logo dies to branding, created with a variety of marking tools. Direct part marking in the jewelry industry, however, is generally used for identification purposes.
Marking is becoming increasingly important in the firearms industry. In addition to the regulations for marking serial numbers, model numbers, and other important information there is also a growing need for decorative markings and branding.
This is just a sample of the industries that have marking needs, but if you are interested in seeing more please visit our Industries page to see the full list of industries we serve.
This post was published on July 31, 2012 and updated on June 3, 2019.