Hot stamping is a versatile process that allows for permanent, clear marks to be made in a huge variety of materials. Of all the types of hot stamping, branding is possibly the most practical. Branding is the most cost-effective way to permanently mark almost any material, other than metal or most glasses of course. Branding allows for deep, permanent marks to be made in materials that often face harsh environments, like the PVC pipe shown in the video below.
Branding isn't just used for industrial applications, however. Branding is an excellent and often used marking solution for marking furniture or art with a trademark, logo, or company name. Branding is also used to identify tools or equipment for personal or security purposes.
Materials suitable for branding include cork, chamois, leather, plastics, paper, rubber, wood, particle board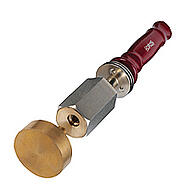 and wallboard, even meat and cheese! Some of the most common applications include:
Scaffolds / Ladders
Utility Poles
Lumber
Batteries
Tires
Reels / Spools
Plastic Parts
Handmade Crafts
Wooden Boxes / Pallets
Furniture / Cabinets
Tools
Saddles & Leather
Sporting Goods
Baseball Bats
Cheese / Other food
Cork
Contact us to request a quote or to learn more about hot stamping and branding.


This post was published on February 12, 2014 and updated on October 15, 2020.