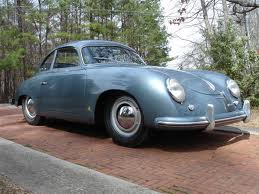 For 40 years, John Wilberg has been building and re-building classic German cars. His customers spend a lot of time and money on their cars - their 'babies' - and they require one simple thing of John: perfection.
Every part and every detail must be exactly as it was many decades ago when the original car was made. This standard of perfection extends all the way to the unique identification marks on each part.
"Our customers want every detail to reflect the original design intent of the original manufacturer. We need a part marking partner that understands that 'good enough' is not good enough for our customers. We need someone like Durable Technologies that will work with us to figure out the best way to use hand stamps to mark components exactly as they were marked in the 1940s and 1950s. Sometimes we even send the parts with the original mark to Durable, and they have to figure out exactly how to replicate that mark on the replacement part. They need to match the font, size, and depth precisely. Our level of satisfaction with Durable Technologies is extremely high, which is our expectation of anyone we work with. Not every company is willing to devote the time and attention, much less have the expertise to meet our standards, and Durable Technologies does both," says Mr. Wilberg.
"We work with BMW, Audi, Mercedes, and Porsche, and our buyers are very serious about these cars. Many of the vehicles are old, damaged, and considered unrestorable since they are so rare and difficult to rebuild. Durable Technologies helps us make this restoration process possible. Those guys do a bang-up job on these hand stamps," states Mr. Wilberg.

Durable Technologies manufactures steel hand stamps that meet all your direct part marking requirements. We custom manufacture cold forged steel hand stamps made from a special grade of tool steel that provides extra-long service life and resists spalling and mushrooming.
No matter how complex, text or logos and custom designs made-to-order are possible. Sizes range from small steel hand stamps for marking jewelry to large steel hand stamps for marking steel slabs. Characters can be sharp face, low stress full character, low stress dot characters, or customized to your specific marking requirements.
Also available:
Please contact us to discuss your hand stamping or direct part marking requirements.
This post was published on November 15, 2022 and updated on November 15, 2022.