Pullman Balances, located in Rochester, NY, has been in business since 1886 and focuses on two things: window counterbalances and plastic thermoforming including custom packaging and cable balancer reels for industrial applications. Pullman Balances creates custom counterbalances that are incorporated into restored windows at historic properties. These counterbalances require some unique marking in order to match the original design elements.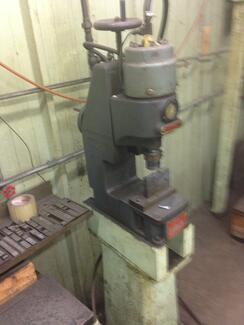 When Pullman needed a partner to help them design and manufacture steel dies that replicate the look and feel of the time period, they reached out to Durable Technologies.
Tim Hayes, Shop Supervisor at Pullman Balances says, "Durable Technologies did an outstanding job for us. We use a pneumatic air stamper and then add the die stamp, lock it in place, and then mark the poundage of the sash weight and part identification. We sent them samples of what we needed and they turned around the design and finished the stamps within two weeks. We definitely plan on continuing to purchase these stamps from Durable in the future."
Durable Technologies' steel stamps and marking dies are custom engineered for identifying just about any type of manufactured product. Each stamping die blank is expertly machined to the customer's exact specifications. Durable's custom dies meet end user requirements for marking machines, pneumatic presses, punch presses, press brakes, and other part marking equipment. Our custom stamps are designed for marking on flat, curved, concave or convex surfaces and for stamping part numbers, patent numbers, trade names, trademarks, special lettering or other data. Durable Technologies' stamps for steel marking are the best steel marking tools available.
Contact us for your stamping and marking die requirements.
This post was published on April 29, 2014 and updated on October 15, 2020.