Toolex, located in Addison, IL, is a full service precision job shop serving customers in a wide variety of industries. Toolex is over 9 years old and has 8 employees that create custom tools, fixtures, and automation equipment. Toolex will make custom parts in quantities from 1 to 1,000 and builds everything to their customer's exact specifications. Custom parts are made from metal or plastic with Toolex using extensive capabilities in CNC, welding, grinding, and other fabrication areas for part processing.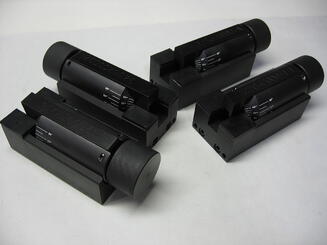 Toolex bid on and won a job with a large aerospace component manufacturer to build a part testing and inspection fixture. "This fixture is extremely complicated and required a very precise and complex engraved part. The engraved die from Durable was crucial to delivering this system and they are the only ones we know of that could have created the detail and accuracy required by the customer," says Ron Rogalla, Toolex owner and President.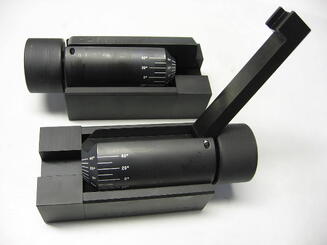 The fixture delivered by Toolex is used for final calibration and quality testing and must meet the very tight tolerances required in the aerospace industry. The fixture must hold, index, measure, inspect, and check the part as well as allow for final adjustments.
Durable supplied a cylinder, tapered and engraved on the outer diameter with a rotary protractor with a range of +/- 40 degrees. This engraved cylinder is used to make adjustments to the fixture in order to calibrate the fixture to the proper specification.
"Durable Technologies quoted us a fair price, delivered the parts with perfect quality, and right on time. If anything had been wrong we would have missed our delivery date for the system. We relied on Durable and they came through for us and will help us generate more business with this customer. We counted on Durable and they made us look really good," states Mr. Rogalla.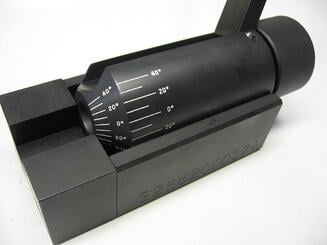 Many companies can do their own engraving in-house using their CNC machines; however, they are usually limited to engraving flat parts due to the inherent limitations associated with CNC technology. Durable Technologies has the advantage of being able to manually engrave hard to reach areas including contoured, concave, and convex parts.
Contact us to see if we can help you with your custom engraving needs.
This post was published on October 16, 2012 and updated on October 15, 2020.