All-purpose utility type and heavy-duty slotted type are used in industrial marking applications where interchangeable information is required.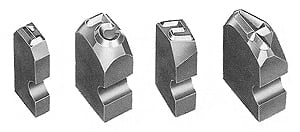 We offer a number of standard steel type options to meet nearly any need including slotted type and utility type styles. Our slotted type is a heavy duty all-purpose steel type designed for the toughest applications. Generally used in steel mills, forging mills, foundries, and other industrial settings slotted type features a slot on one side, which allows for easy orientation of the character.
Our utility type, on the other hand, is a general-purpose type that features interchangeable, standard sized blanks. Using standard blank sizes allows for the use of multiple character sizes with the same holder. An all-purpose steel type, our utility type has been through hardened and annealed at the hole for toughness and durability.
We also manufacture replacement steel type for all of the popular O.E.M. marking equipment including G.T. Schmidt®, Pannier, Matthews®, Hilti®, Columbia®, Automator® and more. Steel type holders can be supplied with a shank for press style use or a simple hand held version for use with a striking hammer.
Click here to see how Durable Technologies can help you make your mark with steel type and holders.
This post was published on February 23, 2016 and updated on December 1, 2016.