Typically used for printing dates, prices, lots, and bar codes on flexible packaging substrates, thermal transfer printers and ribbons are a versatile marking solution.
Why Use Thermal Transfer Ribbons and Printheads?
Food and other perishable goods very often come packaged in flexible plastic containers. Bags, like those used for packaging pretzels or chips, can present some unique marking challenges.
The information that needs to be marked on this type of packaging often needs to be changed to reflect expiration dates and price changes. This means that whatever marking method that is chosen must have the ability to be changed in a hurry.
The packaging itself also presents some challenges. First of all, not all marking methods can be used on plastic. A flexible plastic substrate, like a chip bag, further limits the marking methods that can be employed. Thermal transfer ribbons and printheads offer one of the best marking solution for this type of packaging.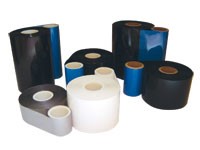 Thermal transfer ribbons and thermal printheads offer users the flexibility to quickly and easily change the data that is being marked. This marking method is also safe to use with thin, flexible plastic and leaves a clear, easy to read mark. Both of these advantages make this type of marking one of the preferred methods for marking grocery items packaged in flexible plastic substrates.
Our ribbons are ISEGA certified and approved for direct and indirect food contact under FDA regulations 21 CFR 175.
We Stand Behind Our Quality
We believe our quality, price, and service differentiate us from the competition. We value the relationship we have with our customers and our products and service prove it!
Best of all, we offer FREE TRIAL SAMPLES of our thermal transfer ribbons! Call us today toll free at 866-344-7721 for your free sample.
Learn More
Contact us to learn more, to request a quote, or to request a free sample.
This post was published on October 18, 2017 and updated on October 15, 2020.